Campus Safety Week and Student Appreciation Day
Campus Safety Week and Student Appreciation Day
03/03/2017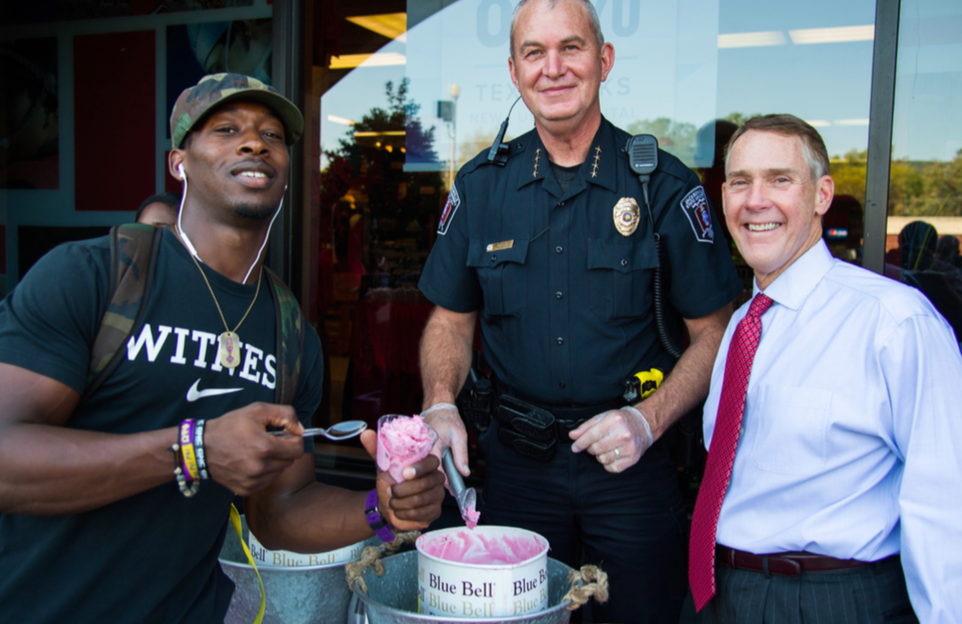 UPD Chief Shawn Giddy (center) and President John Beehler serve ice cream to students a SGA/UPD mixer.
Before students head out of town for spring break, the JSU Police Department and Student Government Association will host Campus Safety Week on March 13-16 to educate the campus on personal safety. Representatives from both the SGA and UPD will be on campus throughout the week to provide safety tips and training.
Schedule of Events:
Monday, March 13 – The SGA executive officers will travel across campus on golf carts to hand out water and campus safety tips 
Tuesday, March 14 – Two officers from the UPD will teach a hands-on self defense class (time and location to be announced at a later date)
Wednesday, March 15 – The Alabama State Troopers Office will present a drunk driving simulation activity in the front parking lot of Stephenson Hall, 11 a.m. to 2 p.m.
Thursday, March 16 – The UPD will present its first Student Appreciation Day, 11 a.m. to 2 p.m., in the lobby of Pete Mathews Coliseum. Enjoy live music, games and free food and giveaways while learning how to stay safe and make good decisions on spring break. Guests will also have a chance to win one of five Blue (Visitor) Parking Decals for 2017-2018 by making a donation to JSU Veteran Services, JSU Peer Educators, and the Lambda Alpha Epsilon criminal justice student organization.
Campus Safety Week and Student Appreciation Day are the result of a partnership formed this year between the UPD and SGA to improve the relationship between students and campus police. Activities have been presented throughout the 2016-2017 academic year – from SGA officer ride-alongs with campus police to student/officer ice cream socials. 
"I think it's important that everyone feel that we are here to make sure their time at JSU is not affected by a crime or a safety issue," UPD Chief Shawn Giddy said when announcing the partnership in June. "Working with the SGA is one method we are using to maintain positive relationships with those we serve and protect."
Learn more about the CALEA accredited police department at www.jsu.edu/police.