Spanish Film Club to Present Fourth Annual Film Festival
Spanish Film Club to Present Fourth Annual Film Festival
10/19/2016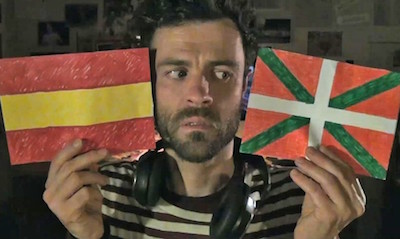 Celebrate cinema at JSU's fourth annual Spanish and Latin American Film Festival, presented by the Spanish Film Club and Department of History and Foreign Languages on Mondays from Oct. 24 to Nov. 28, 5 p.m., in Wallace Hall's Lela Sarrell Auditorium. Admission is free and open to the public. 
The series is made possible by the support of the PRAGDA film distribution company and the Ministry of Education, Culture and Sports of Spain. Mark your calendar for the following screenings:
Oct. 24: "Asier and I" (Asier eta Biok)    
Spain, 2013, Spanish and Basque with English subtitles
"Asier and I" tells the story of the friendship between Aitor and Asier Aranguren from their time growing up together in the conflict-affected and politicized 80s of Pamplona. Eventually, Aitor moved to Madrid to pursue his dream of becoming an actor and Asier joined the terrorist group ETA. Years later, Asier was arrested and interned in a French prison, where he was detained for eight years. When Asier was released in 2010, Aitor wanted to recover his relationship with his childhood friend and try to understand what could have led to him to join ETA, so he went to his release in France with a camera in order to tell this story. Beyond the story of Asier, Aitor, and the Basque conflict, the film raises universal questions: can we justify blood crimes on the name of an ideal? Can friendship transcend ideology and political extremism?
Oct. 31: "Bajarí: Gypsy Barcelona"
Spain, 2013, Spanish with English subtitles 
As believed by the gypsies, Flamenco cannot be learned in a dance school or by reading music. It is lived within the home, created at the bar and perfected on the street corner. "Bajarí" goes to all those places, following in the steps of its two main subjects: Karime and Juanito. The young bailaora (flamenco dancer) Karime Amaya is working with some of the most talented up-and-coming musicians and dancers to create a show that blends the gypsy Flamenco tradition with Barcelona's Rumba tradition. Their adventures and experiences become a journey of discovery of this living tradition and create an intimate portrait of how Flamenco's legacy is kept alive within Barcelona's tight-knit gypsy community.
Nov. 7: "I Am From Chile"
Chile, 2013, Spanish with English subtitles
A coming of age story, "I Am From Chile" draws from the director's personal experiences to tell a different kind of immigration story. It centers on Salvador, who moves to London from Chile to study English and travel around Europe at his parents' expense. He stays with his aunt María, but when a financial crisis back home leaves him with no resources of his own, he has no other choice but to make ends meet. Difficult and challenging situations will force Salvador out of his protected bourgeois reality and into the real world.
Nov. 14: "Paradise" (Paraíso)
Mexico, 2013, Spanish with English subtitles
It's a rude awakening for Carmen, who until now has not really worried about the fact that she and Alfredo are both overweight. After overhearing gossip about their bodies at a company party, she decides that it is time to swap donuts for salads, and urges Alfredo to join her in a weight-loss program. But when only one of them actually starts to slim down, a rift emerges in their relationship. Portrayed with undeniable charm by newcomer Daniela Rincon and well-known Andres Alameida, "Paradise" touches upon issues of body image, self-confidence and happiness with candor and humor. The film is executive-produced by Diego Luna and Gael García Bernal.
Nov. 28: "The Liberator" (El libertador)
Venezuela and Spain, 2014, Spanish with English subtitles
Rising Venezuelan actor Edgar Ramírez stars in this biopic of one of Latin America's greatest figures: Simón Bolívar, who fought more than 100 battles against the Spanish Empire in South America. He rode over 70,000 miles on horseback. His military campaigns covered twice the territory of those of Alexander the Great. But his army never conquered – it liberated. The most expensive Latin American film ever produced, "The Liberator" is a riveting portrayal of the man who led Venezuela, Colombia, Panama, Peru and Ecuador toward independence. This film was shortlisted with eight other titles for the Academy Awards' Best Foreign Film and was the favorite Venezuelan film at the local box office the year it was released.
For more information, contact Dr. Alexandra Martinez, associate professor of Spanish and film festival organizer, at 256-782-5615.