Lunch and Learn/Diversity Lecture Series Slated for October 24
Lunch and Learn/Diversity Lecture Series Slated for October 24
10/17/2016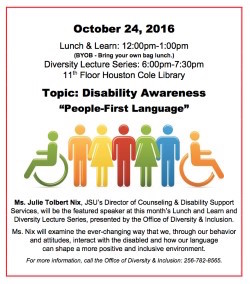 The Office of Diversity and Inclusion will present this month's Lunch and Learn and Diversity Lecture Series on Monday, Oct. 24.
Julie Tolbert Nix, JSU's Director of Counseling & Disability Support Services, will speak at the brown bag Lunch and Learn, 12-1 p.m., and again for the Diversity Lecture Series, 6-7:30 p.m. Both sessions will be on the 11th floor of the Houston Cole Library. 
Nix became director of Counseling & Disability Support Services at JSU in the fall of 2009. She received her bachelor's degree in social work from JSU in 1996, and completed her master's degree in social work in 2000 at the University of Alabama.
Additionally, she also holds a license in social work and is certified as a private independent practitioner. She has served as an instructor of social work at JSU where she taught child welfare and worked as an on-site field instructor to students completing their field placement at the Etowah County Department of Human Resources.
Her experience includes areas of developmental disabilities, public health, medical social work and child welfare. Ms. Nix has special interests in working with parents and children having developmental disabilities within the child welfare system, independent living for adolescents in foster care, and quality assurance.
In her presentation, "People-First Language," Nix will examine the ever-changing way that we, through our behavior and attitudes, interact with the disabled and how our language can shape a more positive and inclusive environment. 
For more information, please contact Jai Ingraham at jingraham@jsu.edu.