JSU Drama to Open Curtain on 2016-17 Season
JSU Drama to Open Curtain on 2016-17 Season
10/24/2016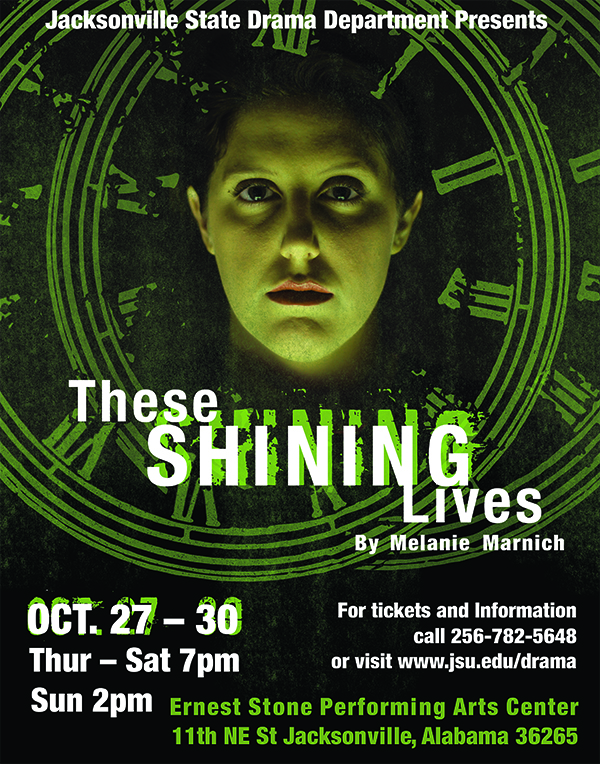 JSU Drama's first show of the season, "These Shining Lives," will take the stage Oct. 27-30. 
Inspired by true events, "These Shining Lives" follows the harrowing tale of four Chicago women working in a watch factory in the 1920s, before government-implemented health and safety regulations. As the health of our heroines quickly deteriorates, their spirits do not. They continue to fight their employer in the hope that no one will have to suffer as they have. 
The show is directed by Lesley Warren and the stage manager is Cheyenne Oliver. The cast includes:
Catherine: Savannah Jones
Charlotte: Ebony Antoine
Frances: Allison Lawley
Pearl: Alexis Robinson
Tom: Dakota Yarbrough
Mr. Reed: Aaron Williams
Grossman: Champ Bryant
Choose from four performances: Oct. 27, 7 p.m.; Oct. 28, 7 p.m.; Oct. 29, 7 p.m.; Oct. 30, 2 p.m. Admission is $10. For more information, contact the Box Office at 256-782-5648.