Celebrate Carter's Bright Life at Glow Run
Celebrate Carter's Bright Life at Glow Run
10/25/2016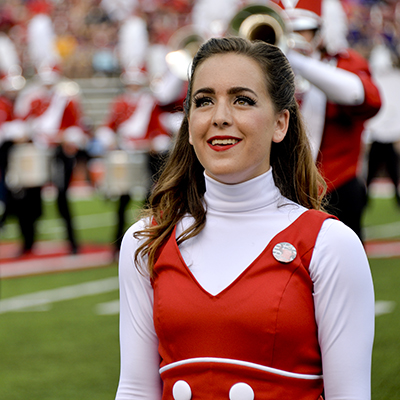 By Kaitlin Fleming
The JSU Department of Kinesiology will host the Kickin' Katie 5K Glow Walk/Run on Nov. 10, 6:30-9:30 p.m., beginning at Dillon Field. The entry fee is $15 and all proceeds will benefit the Katie Beth Carter Scholarship Fund.
Freshman Katie Beth Carter, a Marching Ballerina, died in an automobile accident on Sept 5 just weeks into her college career and days after her first performance with the Marching Southerners.
Lori Galloway, a kinesiology instructor and event coordinator, said the 5K has been organized to "bring the whole campus together" to celebrate Carter's life. Whether you are a Marching Southerner, a Gamecock athlete, a member of a Greek organization, faculty or staff, or a member of the community – the Department of Kinesiology hopes you will help light up the night in memory of Carter.
The Student Government Association has been working alongside Galloway and the kinesiology department to help make the event as memorable as possible.
"I told Jesslan Sharp, the SGA President, that I wanted Dillon Field to look like it does on game day," Galloway said. "We want tents up and people having a good time."
Participants are asked to come dressed in their craziest glow-in-the-dark costumes and bring a flashlight. Music students will be lined up at different points along the race route playing jazz music to encourage the runners and walkers. Greek organizations will pass out water. Directly following the race, there will be an after-party with a live band featuring Aaron Hudgins and Carter's siblings, Jacob and Kimi Carter.
All participants will receive a bracelet and race day T-shirt. Those who register before Nov. 1 are guaranteed a shirt prior to the day of the race. Shirts will be available on a first-come, first-served basis on race day. When registering, please make all checks payable to the Katie Beth Carter Scholarship Foundation.
To register for the event or for more information, visit the Facebook page or call Galloway at 256-452-2580.