Boo to You From JSU 2016
Boo to You From JSU 2016
10/20/2016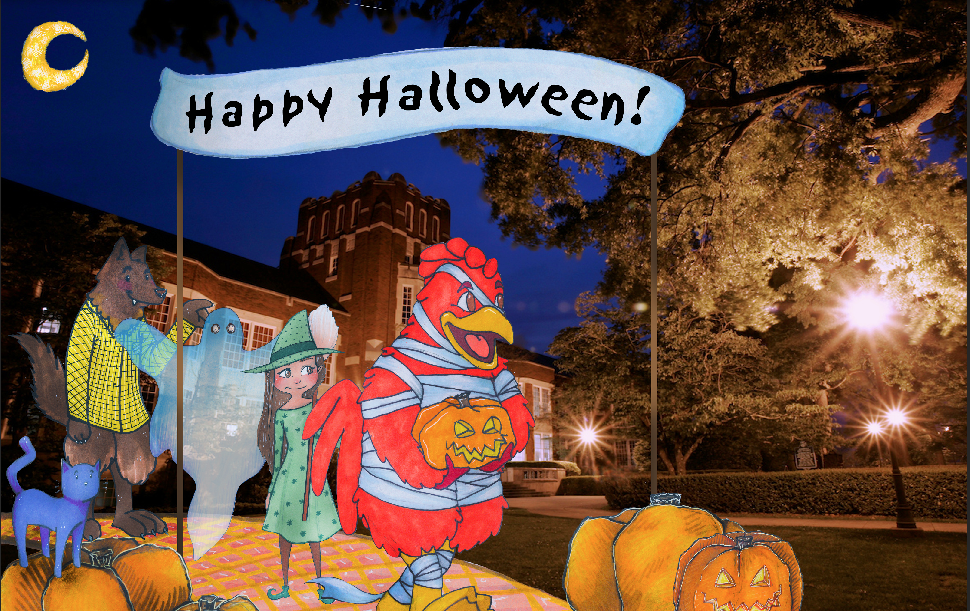 Illustration by JSU senior Megan Wise. 
With a nip in the air and the leaves finally beginning to change color up on Chimney Peak, there's no "bones" about it – Halloween is on its way! JSU has planned more events than you can shake a broomstick at to celebrate the "spirit" of the season. From frightful to family friendly, there's something for everyone to enjoy. 
HALLOWEEN EVENT CALENDAR:
SGA Harvest Festival
Oct. 25, 4:30-7 p.m.
JSU Quad
Children are invited to the JSU Quad for the annual SGA Harvest Fest, when JSU students will provide free games and trick-or-treating. Wear your best Halloween costume for even more fun.
Carnival at the Café
Oct. 25, 4:30-7 p.m.
Jack Hopper Dining Hall
While you're on campus for the SGA Harvest Festival, join us for dinner at the Jack Hopper Dining Hall, which is located right off the Quad. The menu that evening will include kid-friendly, all-you-care-to-eat grub: burgers, fries, pulled pork sliders, grilled cheese sandwiches, pizza, pasta, baked potatoes, polenta with pumpkin, pumpkin crisp dessert, peach pie, soft serve ice cream, cotton candy, caramel apples and a gourmet popcorn bar. The cost is $10 for adults, $5.50 for children younger than age 6, or a meal swipe for those with campus dining plans.
Tubaween
Oct. 26, 7:30 p.m.
Mason Hall Performance Center
Join JSU's Tuba and Euphonium Ensemble and Encore! show choir for a humorously spooky night of song and dance. In addition to the show, guests will be treated to free candy and costume contests for both children and adults.
BCM Halloween Party
Oct. 27, 8-10 p.m.
Baptist Student Center
Baptist Campus Ministries will host a Halloween party, including a costume contest. Everyone is welcome.
"Pirates of Penzance"
Oct. 28, 30; Nov. 4-6
Oxford Performing Arts Center
Join Jacksonville Opera Theater for a swashbuckling adventure heralded as Gilbert and Sullivan's most famous musical: "The Pirates of Penzance." It's the tale of misfit pirates, inept policemen and a clumsy major general with more daughters than he ought to have. You'll have five chances ton take this hilarious trip of land and sea: Oct. 28, 7 p.m.; Oct. 30, 2:30 p.m.; Nov 4, 7 p.m.; Nov. 5, 7 p.m.; Nov. 6, 2:30 p.m. Tickets are priced $10-25. Contact the Oxford Performing Arts Center's Box Office for tickets at 256-241-3322 or purchase online.

"These Shining Lives"
Oct. 27-30
Ernest Stone Performing Arts Center
JSU Drama's first show of the season, "These Shining Lives," isn't a Halloween-themed production. Yet, inspired by true events, it follows the harrowing tale of four Chicago women working in a watch factory in the 1920s, before government-implemented health and safety regulations. That's pretty scary! As the health of our heroines quickly deteriorates, their spirits do not. They continue to fight their employer in the hope that no one will have to suffer as they have. Join us for one of four performances: Oct. 27, 7 p.m.; Oct. 28, 7 p.m.; Oct. 29, 7 p.m.; Oct. 30, 2 p.m. Admission is $10. For more information, contact the Box Office at 256-782-5648.
Haunted Mason
Oct. 28, 8 p.m. to 12 a.m.
Mason Hall
Mason Hall gets a ghostly makeover each year as part of the annual Kappa Kappa Psi fundraiser, Haunted Mason. Bring your friends to venture through the scariest haunted house in town. Tickets are $3 in advance or $5 at the door. Advance tickets may be purchased on the porch of Mason Hall during the day throughout the week of Oct. 24. Proceeds benefit the music department.
Bat Day at the Canyon
Oct. 29
JSU's Little River Canyon Center, Fort Payne
The JSU Canyon Center will go batty on Oct. 29. Build your very own bat box from 8-10 a.m., followed by a "Batty About Bats" presentation – with the real critters in attendance – presented by Vicky Beckham-Smith of A to Z animals. Admission is free. For more information, call 256-845-3548.
Spookapalooza Weekend
Oct. 28-30
JSU's Little River Canyon Center, Fort Payne
Join the staff and volunteers of JSU's Environmental Policy and Information Center, DeSoto State Park and the National Park Service for a weekend of fun events guaranteed to send shivers up your spine! Trick or treating, games, storytelling and more is in store during this popular annual event. Grab your favorite costume, bring the family, and come stay with us! All events are free to the public and suitable for all ages. Admission is free. Call 256-997-5025 or visit the event website. 
Halloween Costume Contest
Oct. 31, 7:15 a.m. to 6 p.m.
JSU Bookstore
Visit the JSU Bookstore in costume all day on Halloween to receive free candy and be entered into a costume contest. Photos will be taken of those in costume and posted to the Bookstore's Facebook page for online voting. The photo with the most "likes" by Nov. 4 wins. The prize is a free T-shirt of the winner's choice.