2016 Alumni of the Year to be Honored at Homecoming
10/24/2016
The JSU Alumni Association announces the 2016 Alumni Award recipients. These five outstanding members of the JSU family will be recognized during halftime at the JSU Homecoming football game on Saturday, October 29, 2016.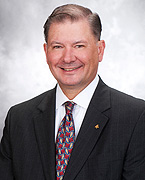 ALUMNUS OF THE YEAR
Marc Angle '82
Marc Angle earned a BS in finance from JSU in 1982 and went on to receive an MBA from Samford University. He began his career as part of SouthTrust's first commercial training program in 1983. In 1999, he moved to Texas with SouthTrust to build the company's Texas wholesale and retail franchise, where he managed markets in Dallas/Fort Worth Metroplex, Houston, San Antonio and Beaumont. He served three years as president of the Texas region of First Horizon Bank before joining Regions Financial Corporation in 2008. He currently serves as the area president for the greater Texas market for Regions, where his responsibilities include all commercial and consumer lines of business for Dallas/Fort Worth Metroplex, Houston, Austin, San Antonio and East Texas. He serves as a board member for the SMU Athletic Forum, Emily's Place and the JSU Foundation. At JSU, he was a member of Kappa Alpha Order and president of the Student Government Association. He and his wife Mary (Hudson) '88, reside in Plano, Tex. Their daughter, Darby, is a freshman at JSU.
---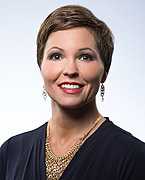 ALUMNA OF THE YEAR
Heather Marshall '99
Heather Marshall earned an MS in education from JSU in 1999. She holds a BA in international relations from Samford University and is pursuing a Master's of Disability Studies at City University of New York. Upon graduating from JSU – where she was named Phi Delta Kappa Medal Student Teacher of the Year and received the Award for Excellence in Secondary Education – she began her teaching career at Gardendale High School in Gardendale, Ala. She went on to teach at Roebuck Community Adult Learning Center and E. B. Erwin High School in Birmingham before moving to New York in 2003 to teach at York Preparatory School. In 2014, she was promoted to her current position as dean of its Upper School. She serves as an advocate for people with disabilities and, in 2015, was appointed to the leadership council for the New York City chapter of the Foundation Fighting Blindness. She is a member of the Society for Disability Studies, the Association of Teachers for Independent Schools and the New York Historical Society. She resides in New York City.  
---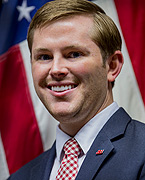 YOUNG ALUM OF THE YEAR
Warren Sarrell III '10
Warren Sarrell earned a BS in business management with a minor in technical writing from JSU in 2010. He earned a JD from The Birmingham School of Law in 2014 and currently serves as the Cleburne County Circuit Clerk. He is an alumnus of Leadership Cleburne County and serves as a member of the Alabama Circuit Clerks Association, the Cleburne County Chamber of Commerce and the board for Friends of the Talladega National Forest. Having achieved the rank of Eagle Scout with Boy Scouts of America in his youth, he serves as a Cub Scout Leader for Pack 206 in Heflin, Ala. He is also an active mentor for the Cleburne County Middle School mentoring program. While at JSU, he served as a Gamecock Orientation Leader, president of Kappa Alpha Order, and was voted Mr. Jax State. He continues to serve as alumni advisor for his fraternity and was an alumni judge for the 2015 JSU Homecoming Pageant. He and his wife, Astin (Mobley) '08, have one son, Branson. The family resides in Ranburne, Ala.
---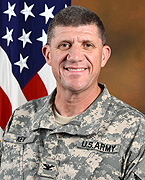 MILITARY ALUMNUS OF THE YEAR
Colonel Todd E. Key '87
Col. Todd Key earned a BA in history and English from JSU in 1987 and was commissioned as a second lieutenant into the field artillery. Now an Army strategist, he has served five Army chiefs of staff, two chairmen of the Joint Chiefs of Staff, and the senior four-star general in charge of all NATO forces in Afghanistan. He was serving in the Pentagon on 9-11 and has three combat tours in Afghanistan. He is a recipient of the Legion of Merit (with two oak leaf clusters), the Bronze Star Medal, the Defense Meritorious Service Medal (with oak leaf cluster), the Meritorious Service Medal (with three oak leaf clusters), the Army Commendation Medal (with two oak leaf clusters), and the Army Achievement Medal (with one oak leaf cluster). He is also the recipient of the Italian and Polish Afghan Campaign Medals. He holds master's degrees in international relations from the US Army Special Operations Center and School through Troy State and in national security and resource strategy from the Eisenhower School for National Security and Resource Strategy. He is chairman of the Strategic Research and Analysis Department at the Army War College at Carlisle Barracks, Penn. He and his wife, Kelly Boucher, are the proud parents of daughter Emilyann Key.
---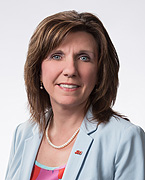 OUTSTANDING FACULTY/STAFF OF THE YEAR
Dr. Christie Shelton '96, '02
Dr. Christie Shelton earned a BS and MS in nursing from JSU in 1996 and 2002, respectively, and completed a PhD in nursing at the University of Alabama at Birmingham in 2009. Currently the dean of the School of Health Professions and Wellness, she has held diverse roles over her 16-year career at JSU, including serving as nursing arts lab coordinator, instructor of nursing, project director of a $3.2 million grant studying the health effects of polychlorinated biphenyls on the Anniston population, director of the traditional BS in nursing program, and associate dean. Some of the most significant accomplishments under her deanship include construction of a state of the art simulation facility, approval of the second doctoral program at JSU – a Doctor of Nursing Practice – and approval of a bachelor's program in respiratory therapy. She is a Certified Nurse Educator and a board certified Nurse Executive-Advanced. In 2012, she was recognized by her peers with a Alabama League for Nursing Lamplighter Award. She and her husband, Bryan, reside in Heflin, Ala., and have two grown children, both of whom are JSU alumni. They also have three grandsons.
---
ALUMNI CHAPTER OF THE YEAR
Student Alumni Association 
The Student Alumni Association is led by President Jessica Gattis, a senior majoring in criminal justice with a concentration in forensics, under the advisement of Assistant Director of Alumni Relations Alan Renfroe. The SAA prepares students for life after college while having fun in college. Open to all students, its activities include cookouts, alumni guest speakers, professional etiquette dinners, community service, mock interviews, icebreakers, team building exercises, leadership development and more. But mostly, the SAA is about meeting new friends, making lifelong connections and having a great time! The young organization already has more than 100 members. 
To nominate someone for the 2017 Outstanding Alumni of the Year awards, complete the form at www.jsu.edu/alumni
The nomination deadline for 2017 alumni of the year is February 1, 2017.