Zeta Tau Alpha Wins National Award
Zeta Tau Alpha Wins National Award
09/21/2016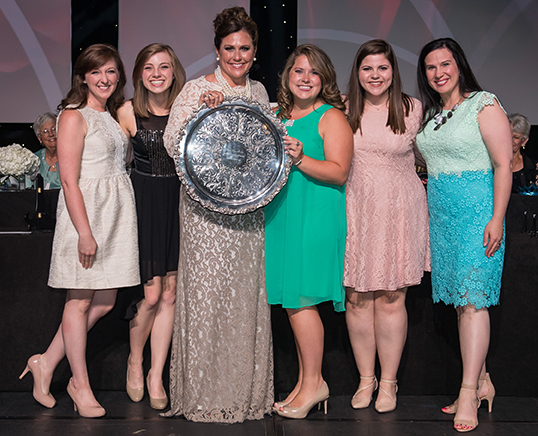 JSU's own Zeta Tau Alpha was recently recognized as one of the top chapters in the US at its biennial conference. The JSU Zeta Psi chapter of ZTA was honored to receive first runner-up for the Nelly Galloway Shearer Achievement Award which, as the second highest award given by ZTA, is a distinction that ranks JSU fourth among all ZTA chapters in the nation. First place went to the University of Florida and second-runner up to the University of Mighigan. 
First presented at its 1939 convention, ZTA's Nelly Galloway Shearer Achievement Award is given to the chapter that has made the greatest progress or has continued to maintain its high degree of excellence during the previous two years. Scoring is based 40 percent on academic achievement, 30 percent on activities and 30 percent on programming. 
JSU also took home several other national honors, including:
The Quota/Total Award for maintaining maximum chapter size
The Crown Chapter Award for excellence in all facets of chapter programming, service, recruiting, finances, scholastics, member involvement and chapter management
The Academic Achievement Award for maintaining a GPA of 3.0 or higher each semester 
The Helping Hands Certificate for lending assistance to ZTA chapters on other college campuses
JSU ZTA also distinguished itself for becoming the chapter from the smallest university inducted into the Founders Club, an honor given to chapters that raise the most money for ZTA's national philanthropy, Breast Cancer Education and Awareness. JSU has raised $76,000 for the Zeta Tau Alpha Foundation over the past two years.
Founded in 1898, Zeta Tau Alpha is now the second largest among the 26 national Panhellenic sororities, with 252 collegiate ZTA chapters, 238 ZTA alumnae organizations and more than 245,000 members worldwide. The Zeta Psi chapter at JSU was chartered in 1969. This past year, the chapter was awarded the President's Gold Cup and was recognized for the highest new member and sorority GPAs on campus.
For more information about ZTA at JSU, visit jsu.zetataualpha.org, follow @ZTAJSU on Instagram and Twitter and like "Zeta Tau Alpha at Jacksonville State" on Facebook.