JSU Goes Pink for Breast Cancer Awareness
JSU Goes Pink for Breast Cancer Awareness
09/30/2016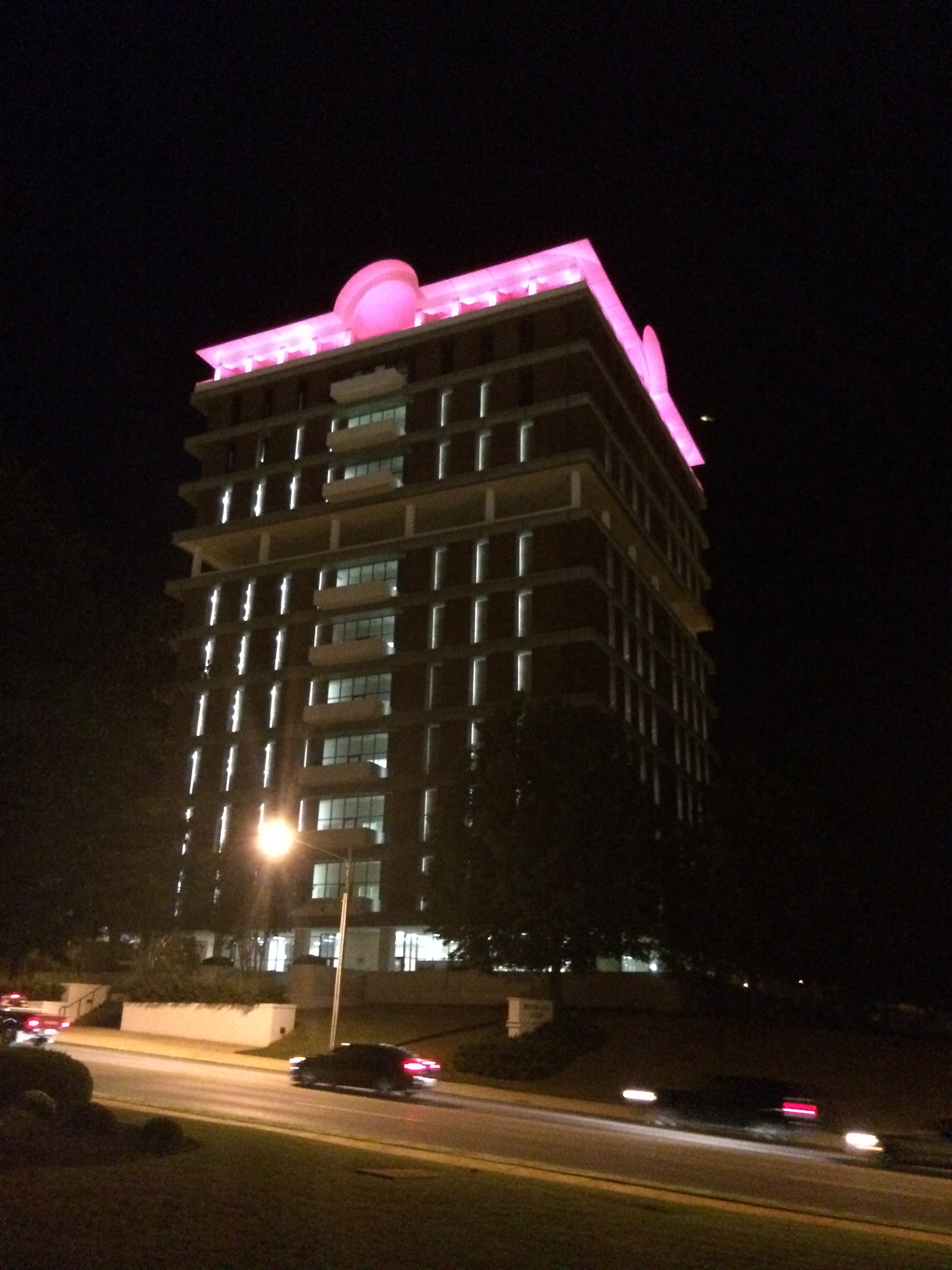 JSU's Houston Cole Library was lit pink to kick off Breast Cancer Awareness Month 2016.
Red and white make pink, but that's not the reason JSU is one of the nation's biggest advocates for breast cancer awareness. That honor was earned by Zeta Tau Alpha, which raises thousands of dollars for the cause each October as part of Breast Cancer Awareness Month.
In fact, at ZTA's national conference in July, JSU's Zeta Psi chapter distinguished itself as the chapter from the smallest university inducted into the Founders Club, an honor given to chapters that raise the most money for ZTA's national philanthropy, Breast Cancer Education and Awareness.
Have you ever wondered how Breast Cancer Awareness Month got its start? It began in 1985 as a partnership between the American Cancer Society and a pharmaceutical division of Imperial Chemical Industries. The goal was to raise awareness for breast cancer and promote early detection.
According to the National Breast Cancer Foundation, one in eight women in the US will be diagnosed with breast cancer. It is the most diagnosed cancer in women, but there are 2.8 million survivors in the United States. Early detection is key, which is the reason ZTA works so hard to educate the campus and local communities.
During the month of October, ZTA hosts several events to raise money and awareness. This year's lineup includes the following:
October 2-16: Paint The Town Pink – Pink ribbons will be sold for donations and hung throughout Jacksonville.
October 8: Pink Out Game – At the JSU home football game, breast cancer survivors will be recognized on the field before the game, pink ribbons will be distributed to fans, and pink shakers will be sold for donations.
October 12: Pound Fitness Class on the Square at 4:30 p.m. Admission is $5
October 18: Bright Pink Workshop in the Leone Cole Auditorium at 6 p.m.
With events like these, JSU ZTA has raised $76,000 for the Zeta Tau Alpha Foundation over the past two years alone and was ranked No. 22 in the nation among all ZTA chapters in donations for 2015-2016. The top fundraising chapters included Auburn University, University of Georgia, Indiana University, Florida State University, University of Florida, University of South Carolina, Louisiana State University, Texas A&M, Rutgers and Purdue.
"It's pretty amazing that JSU's chapter, located at a much smaller university and in a small town, is in their league," said ZTA advisor and English professor Dr. Andrea Porter.
ZTA was recently recognized as one of the top chapters in the US at its national conference. JSU was honored to receive first runner-up for the Nelly Galloway Shearer Achievement Award, which – as the second highest award given by the national chapter – is a distinction that places JSU fourth among all ZTA chapters in the nation. First place went to the University of Florida and second-runner up to the University of Michigan. 
JSU also took home several other national honors, including:
The Quota/Total Award for maintaining maximum chapter size
The Crown Chapter Award for excellence in all facets of chapter programming, service, recruiting, finances, scholastics, member involvement and chapter management
The Academic Achievement Award for maintaining a GPA of 3.0 or higher each semester 
The Helping Hands Certificate for lending assistance to ZTA chapters on other college campuses
Founded in 1898, Zeta Tau Alpha is now the second largest among the 26 national Panhellenic sororities, with 252 collegiate ZTA chapters, 238 ZTA alumnae organizations and more than 245,000 members worldwide. The Zeta Psi chapter at JSU was chartered in 1969. This past year, the chapter was awarded the President's Gold Cup and was recognized for the highest new member and sorority GPAs on campus.

For more information about ZTA at JSU, visit jsu.zetataualpha.org, follow @ZTAJSU on Instagram and Twitter and like "Zeta Tau Alpha at Jacksonville State" on Facebook