Student Puts Lessons to Practice to Open Leather Goods Business
Student Puts Lessons to Practice to Open Leather Goods Business
09/28/2016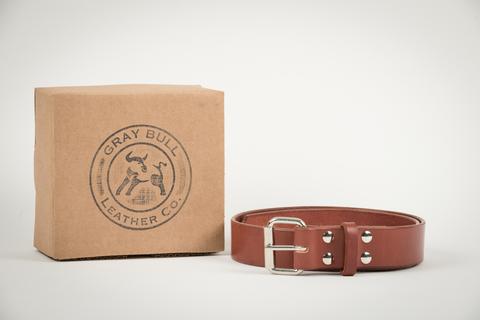 by Katie Cline
JSU student Chris Brown can officially call himself a businessman. This isn't a lemonade stand on the town square or an Etsy store online. The finance major recently opened Gray Bull Leather Co., a leather goods store, out of his apartment. But being a small business owner in a corporate-run world isn't the romanticized rags-to-riches story that it is sometimes portrayed to be: it's an idea, a plan, a little luck and a lot of hard work and paperwork.
Brown started attending JSU in 2013 after graduating from Crossville High School in Crossville, Ala. He is a snare drummer for the Marching Southerners but it was off the field that he had the idea for Gray Bull Leather. He got some advice from Joe Grimes, a business advisor at JSU's Small Business Development Center. Then, it was a scavenger hunt of epic proportions trying to decide how to file a business with the state and local municipalities, where to get a business license, what kind of license to get, how to file taxes and where to get materials and equipment. 
Gray Bull Leather began filling orders in April. It started out making belts, which Brown said are the easiest to produce. The company now offers six products: brown and chestnut belts, two styles of leather bracelets, a 3-pocket slim wallet and a document portfolio. Brown says the company is looking forward to expanding its merchandise as the company grows.
"We're always trying to look for new products and new ways to help people," Brown said. "We want to get into different products and different colors: watchbands, laptop cases, ladies' purses, duffle bags, whatever we can. It's going to take some more resources and research, but we'd like to do it someday."
Gray Bull's current products range in price from $19 for a bracelet to $59 for a belt or document portfolio. And while these prices may cause sticker shock in some customers, Brown says their belts will last years longer than department store alternatives with proper care.
"You are going to pay a little more," Brown said, "but you're supporting small business, you're supporting college students and you're paying for the story, the brand and the craftsmanship. We're not just trying to make a buck off of you – we're trying to make something that you'll have the rest of your life and you'll remember the experience of buying a product from us."
Each product from Gray Bull comes hand-packaged with a sticker of the company's logo and a personalized thank you note. For more information on Gray Bull Leather Co. and its products, visit www.graybullleather.com or follow the company on Facebook at www.facebook.com/graybullleather.