Argentine Pianist Julio Caesar Barreto to Perform on Sept. 8
Argentine Pianist Julio Caesar Barreto to Perform on Sept. 8
09/05/2017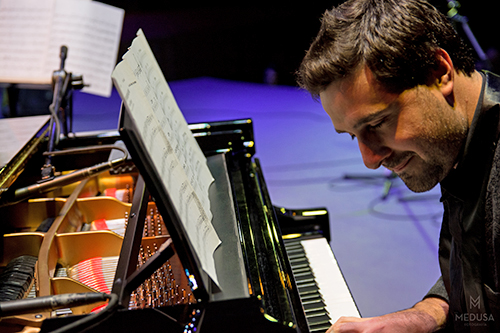 Argentine pianist Julio Caesar Barreto (courtesy)
The JSU Jazz Ensemble I and Latin Ensemble will perform with pianist Julio Caesar Barreto from Argentina on Friday, Sept. 8 in the Mason Hall Performance Center. The free, public concert begins at 7:30 p.m.
Born in Entre Rios, Argentina, Julio Barreto began his music studies at the age of 5. He dedicated more than 10 years to popular music as a keyboardist and pianist, embracing different genres of music such as Jazz, Rock/Pop, Latin and Argentine music.
He completed his formal classical piano studies with the Argentine pianist Graciela Reca. As a classical pianist, he has presented concerts and recitals (solo and chamber music settings) in various locations within Argentina and outside the country.
Barreto is a graduate of the Superior Institute of Music in the Litoral National University where he was awarded a degree in classical piano. Following this, he entered the Berklee College of Music (Boston, USA) and studied with Brian Lewis, Ben Newhouse, Jeri Sykes, Dan Moretti and Jerry Gates, earning the Master Certificate in Arranging and Orchestration. During this time he was awarded the Herbie Hancock Celebrity Scholarship, in recognition of his academic achievement. He participated in clinics, masterclasses and seminars with Jordi Mora, Exequiel Spucches, Boris Giltburg, Cor¡ún Aharónián, Emile Girard-Charest, Daniel Añez Garcia, and Dr. Carolina Melchiori, among others.
His musical activities extend to diverse areas such as session musician, composer/arranger/producer, as well as teaching in public and private institutions.
Currently Julio serves as pianist in the Choral Institute of the Province of Santa Maria. In addition he teaches piano accompanying and serves as the Secretary of Extension (2014-2018) for the Superior Institute of Music of the Litoral National University, the school where he also teaches the "Popular Music Improvisation Seminar" and the seminar on "Rock and Pop: Interpretation, Arranging and Production." Since 2015 Julio has directed the Santa Fe Jazz Ensemble and the group Picante, Latin Jazz.