JSU Print Shop Now Open to the Public
JSU Print Shop Now Open to the Public
06/30/2016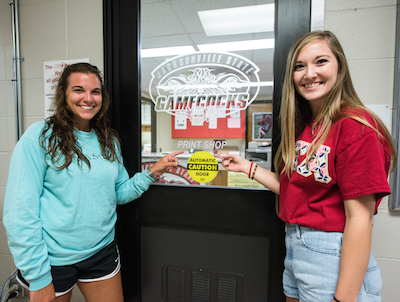 Are you in need of wedding announcements or birthday party invitations? Do you want to get a jump on the holiday season and have family Christmas cards printed featuring a fabulous vacation photo? Need to print posters advertising your church bake sale or get tickets printed for a school fundraiser? Look no further than the JSU Print Shop, which is now open to the public.   
As of this summer, the JSU Print Shop is accepting off-campus job requests. The shop copies on a variety of paper sizes and colors and, with notice, can special order paper. Finishing options include collating, stapling, folding/scoring, cutting, binding, three-hole punching, and padding. The shop's wide-format printer can handle corrugated signs in various sizes, banners and banner stands, static cling, stickers, wall and floor graphics, and more.
Options include, but are not limited, to the following:
Invitations
Business cards
Event tickets
Calendars
Birth announcements
Wall graphics
Graduation name cards
Bumper stickers
Yard signs
Magnets
Post cards
Decals
Holiday cards
Posters
Brochures
Notepads
Stationary
Banners
"The JSU Print Shop has proudly served the JSU campus for more than 30 years," said Chuck Torruella, director of the Print Shop." We are happy to open our doors to the local community and offer our services off-campus, filling a need in the local area which has limited printing options."    
The JSU Print Shop is located on the first floor of the Theron Montgomery Building. Hours of operation are Monday-Friday, 8 a.m. to 12 p.m. and 1-4:30 p.m. Walk-ins are welcome on simple copies of less than 100 pieces. For all other off-campus jobs, a five-day notice is strongly suggested. For a price list and online order form, visit the print shop website. Call 256-782-5323 or email printshop@jsu.edu for more information.
Photo: JSU Print Shop (courtesy Matt Reynolds/JSU).