Drama Professor Awarded JSU's Second Fulbright for 2016
Drama Professor Awarded JSU's Second Fulbright for 2016
06/14/2016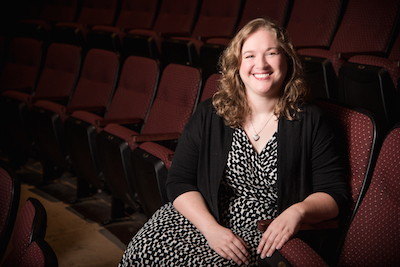 Theatre historian Ellen Peck, an assistant professor of drama at Jacksonville State University, has been named a Fulbright Scholar by the U.S. Department of State. She joins Guillermo Francia in becoming the second JSU faculty member awarded a Fulbright this year. It is one of the most prestigious honors one can achieve in academia.
As the United States' flagship academic exchange effort, the Fulbright Program was founded in 1946 by Senator J. William Fulbright to increase mutual understanding between the people of the US and other countries.
More than 360,000 of the nation's brightest students and professors have participated in the program over the past 70 years, 53 of whom have gone on to win the Nobel Prize. The program is administered by the US Department of State's Bureau of Educational and Cultural Affairs.
Peck is both a theatre historian and practitioner. As a historian, she specializes in musical theatre history with an emphasis on the early 20th century. She will use the award to travel to Romania, where she will teach classes in musical theatre and American theatre history at Alexandru Ioan Cuza University from October 2016 to June 2017.
"I am honored and thrilled to receive the Fulbright and represent JSU in Romania," said Peck. "I'm truly humbled to be included in the Fulbright community of scholars. Romania is an incredible country: vibrant, culturally-rich and beautiful. I can't wait to study its theatrical history and see some of the best theatre in Europe." 
Peck joined the JSU faculty in 2010. She holds a B.A. in theatre from Oakland University and a M.A. and Ph.D. in theatre history from the University of Illinois at Urbana-Champaign. 
In April, Guillermo Francia – a computer science professor at JSU – was named a recipient of the Fulbright Cyber Security Award from the US-UK Fulbright Commission. Next spring, he will join a group of prominent cyber security experts at Imperial College London to perform research on critical infrastructure security as part of the 2015 Obama-Cameron bilateral agreement to strengthen cyber security research collaboration between the US and UK.
Photo: Dr. Ellen Peck (courtesy Matt Reynolds/JSU).