JSU Professor Awarded Prestigious Fulbright Award
JSU Professor Awarded Prestigious Fulbright Award
04/22/2016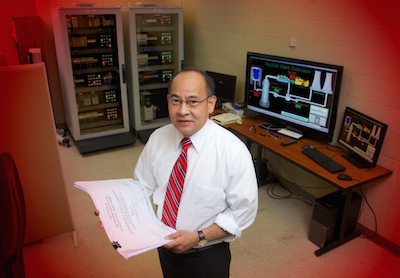 Guillermo Francia, a Jacksonville State University computer science professor, has been named a Fulbright Scholar by the US Department of State. It is one of the most prestigious honors one can achieve in academia.
As the United States' flagship academic exchange effort, the Fulbright Program was founded in 1946 by Senator J. William Fulbright to increase mutual understanding between the people of the US and other countries.
More than 360,000 of the nation's brightest students and professors have participated in the program over the past 70 years, 53 of whom have gone on to win the Nobel Prize. The program is administered by the US Department of State's Bureau of Educational and Cultural Affairs.
An information security and assurance expert, Francia is a recipient of the Fulbright Cyber Security Award from the US-UK Fulbright Commission. He has received funding to travel and reside in London next spring, where he will join a group of prominent cyber security experts at Imperial College London to perform research on critical infrastructure security. He will be part of the first wave of American researchers who will be going to the UK as part of the 2015 Obama-Cameron bilateral agreement to strengthen cyber security research collaboration between the US and UK.
"I am deeply humbled and honored to receive this award and truly grateful for the steadfast support from colleagues and administrators in my effort building a robust information security and assurance academic program at JSU," Francia said.
Francia is no stranger to federal support of his research. In November, two of his projects received grants from the National Science Foundation, the U.S. Department of Defense and the National Security Agency. The grants totaled more than $364,000 and are being used to strengthen cyber security research and education at JSU and throughout North Alabama.
In 1994, Francia joined the faculty in the JSU Department of Mathematical, Computing and Information Sciences. He holds a B.S. in Mechanical Engineering from the Mapua Institute of Technology in the Philippines and an MS and PhD in Computer Science from the New Mexico Institute of Mining and Technology.
Photo: Dr. Guillermo Francia (courtesy JSU).