JSU Drama Presents "The Female Odd Couple" on May 12-15
JSU Drama Presents "The Female Odd Couple" on May 12-15
04/27/2016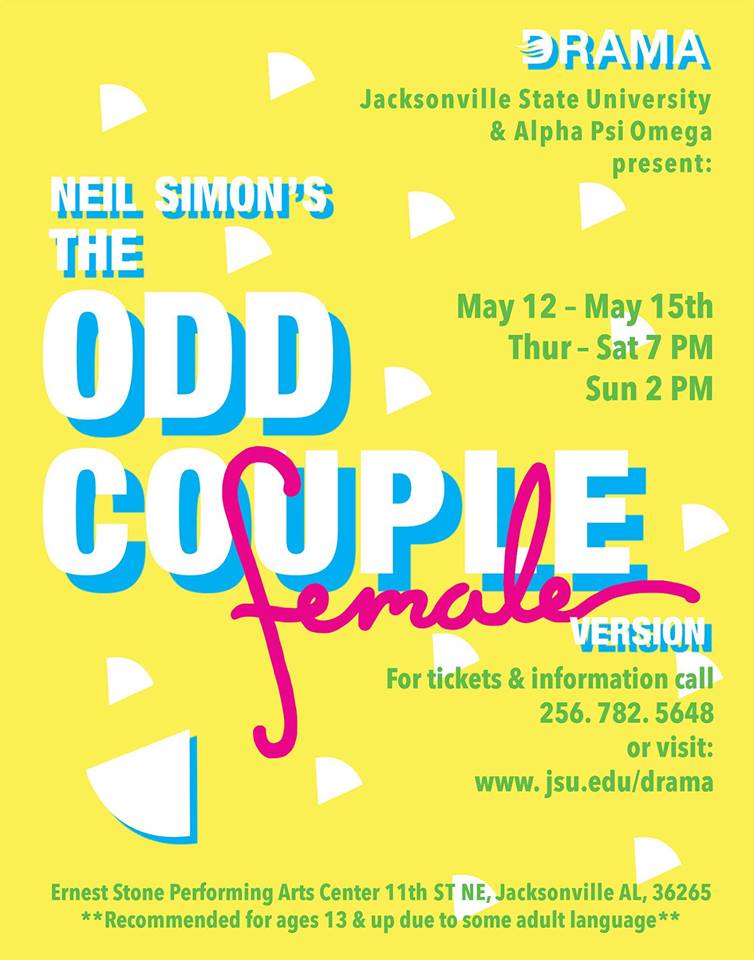 Watch out Oscar and Felix! Olive and Florence are pulling out all the stops in this hilarious adaptation of "The Odd Couple," presented by JSU Drama May 12-15 as the final installment of the 2015-2016 season.
Based on the popular 1970s TV sitcom and Neil Simon's original play, "The Female Odd Couple" reverses the gender of the original leads, Oscar and Felix, pairing an unlikely set of female roommates – Florence and Olive. From their hunky Latino neighbors to their Trivial Pursuit playing gal pals, a visit to Olive and Florence's 1980s apartment is sure to keep audiences entertained from first line to curtain call.
The student-run production, presented by the Alpha Psi Omega theatre society, showcases the talents of JSU's theatre students. The design and production team is student led, from costumes and scenery to lights and sound.
"The process for this show has been a dream come true as my last project here at JSU," said student Cody Hays, who is directing the production. "I could not ask for a better or more hard-working cast. This 1980s female twist on such an iconic story is refreshing and a nostalgic trip down memory lane, full of pop culture references that will take you right back to 1985. I encourage everyone to break out the shoulder pads and come laugh with us at the Ernest Stone Performing Arts Center."
Show dates and times are May 12-14, 7 p.m., and May 15, 2 p.m. Tickets are $10 for students, JSU faculty and staff, military and seniors over age 60; $15 for general audiences. Call the ticket office at 256-782-5648 or purchase online at www.jsu.edu/drama.