Fear the Beak and Boil the Shrimp!
Fear the Beak and Boil the Shrimp!
04/15/2016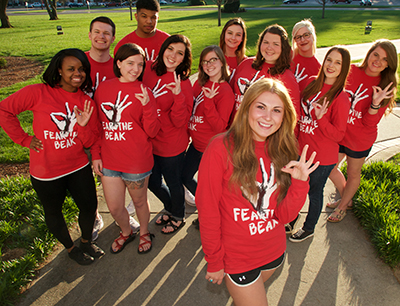 Who coined the phrase "Fear the Beak?" It started with the Student Alumni Association. (Angie Finley/JSU)
At the beginning of the historic 2015 Gamecock football season, while brainstorming slogan ideas to print on club T-shirts, the JSU Student Alumni Association unexpectedly created the battle cry heralded throughout the team's most successful season in 22 years – "Fear the Beak!"
The group knew they wanted the shirt to feature the rooster hand sign popularized by the JSU Cheerleaders – in which the thumb and index fingers touch, forming a beak, with the other three digits extending into a comb – but they had a hard time hitting on the right words to go with the image.
"We thought about 'Get Cocky', but we already had the Cocky T-shirts," said Alan Renfroe, club advisor and assistant director of JSU Alumni Relations. "Then we had the idea of 'Fight On,' the first words of our fight song. We really liked the artwork we had, but we weren't sold on the saying. Then one night I just said, 'Fear the Beak!' and we all said, 'That's it!'"
The shirts debuted at Red Threads Apparel on the Jacksonville Square late in the regular football season. Red Threads donated a portion of each shirt sale back to the Student Alumni Association, and the group raised $800 last season alone. Renfroe said they hope to market the phrase in coming years and are already working on next year's design.
What is the Student Alumni Association? Founded in 2003, the SAA is a small-but-growing group aimed at helping JSU students have fun in college while preparing for their future. Originally called Students Today, Alumni Tomorrow (STAT), the group is currently 105 members strong, up from 65 members at this time last year.
"The Student Alumni Association is an inclusive group," said Renfroe, "If you're enrolled in any class at Jacksonville State – graduate or undergraduate – you can join."
Membership dues are $30 per year or $80 for life and come with a complimentary T-shirt and a discount card for local restaurants. Jessica Gattis joined SAA in 2012 as a freshman. This past year, she served as president, and she has been elected to serve a second term beginning this fall.
"As president, not only do I want students to learn and grow into successful graduates, but I want everyone to feel comfortable," said Gattis, a senior majoring in criminal justice with a concentration in forensics. "I want everyone to know who they are, love who they are and know that they are family to us in SAA. That's what the Student Alumni Association has taught me: leadership and how to love others. I'm a better person because of this organization."
Within the SAA is an elite group of students called the SAA Ambassadors. These 16 students represent the organization at campus events like Homecoming and Orientation.
The SAA also hosts a number of events on campus to help students make connections and prepare for life after college. Some of their signature events include résumé building workshops, mock interviews and the annual etiquette dinner. Their biggest annual event, though, is Shrimp Boil.
What started as a 45-person fundraiser in 2005 has grown to an annual event that hosts more than 300 people. The 2015 Shrimp Boil featured over 300 pounds of shrimp, potatoes and sausage and raised $2,100 that was shared between JSU's Calhoun County Alumni Chapter scholarship fund and SAA.
The 11th Annual Calhoun County Spring Shrimp Boil will be held Thursday, April 21, from 5-8 p.m. at the Alumni House. Live entertainment will be provided by the JSU steel drum band, and beer will be available for those over 21. Tickets are $20 per person, and the first 300 tickets sold come with a free T-shirt. Children's tickets are available for $10 per child ages 5 to 10, with no charge for children younger than age 5. Advanced reservations for the event are required and must be made by Monday, April 18.
For more information on the Student Alumni Association, email Alan Renfroe or call 256-782-8256.
Make Your Shrimp Boil Reservation
Members of the Student Alumni Association model the 2016 Shrimp Boil tees for a group photo. (Angie Finley/JSU)