Behind the Desk with Mark du Pont
Behind the Desk with Mark du Pont
04/20/2016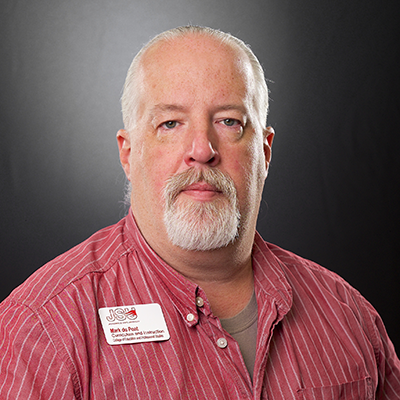 Mark du Pont (Steve Latham/JSU)
By Katie Cline
Walking into Ramona Wood Hall for the first time, you might be surprised to see Mark du Pont sitting behind the secretary's desk. He is, after all, one of the only male administrative assistants at Jacksonville State University.
Since 2014, du Pont has served as secretary of the JSU Department of Curriculum and Instruction. He graduated from Etowah High School in Attalla in 1981. That fall, he started college at JSU but dropped out after two years to follow his then-job. After being passed up for several promotions because he lacked a college degree, du Pont returned to JSU in 2008 to "pick up the pieces." He graduated with a bachelor's in photography in 2013.
"I tend to function better in a support role rather than a defined leadership position," du Pont said. And he seems to have found his niche. In December, he was named JSU Employee of the Month out of more than 600 staff members. He is one of only two male administrative assistants on campus, according to Human Resources. The other is Cory Anderson in Athletics, but his duties center on football management and operations rather than clerical tasks.
"What I like most about my job is interacting with the students," du Pont said. "They are the reason I have a job in the first place. I have collected a lot of life experience over the years and I enjoy sharing that experience and knowledge with today's students. Looking back, I remember several faculty members who came to my rescue or who helped me solve problems and basically cope with life. While I was a student from 2008 to 2013, I enjoyed a sort of big brother role with my classmates, and that continues today."
So what's it like working in a female-dominated profession, seated within a department that trains students in another female-dominated field?
"I believe that if anyone puts forth their best effort toward job performance and getting along well with their co-workers, then it does not matter if the secretary is a man or if the auto mechanic is a woman," said du Pont. "After the novelty wears off, then it is up to me to continuously prove that I was the right pick for the job."
When du Pont isn't in the office, you will likely find him supporting the Marching Southerners, JSU's world-renowned marching band.
"Ah, the Southerners!" du Pont smiled. "They are the reason I came to JSU in the first place, and they figured heavily into the equation the second time around. In the 1980s, I marched with the Southerners both on the 20-J line and on the rifle line. The sense of family that permeates the organization drew me in and kept me there. When I decided to return to school in 2008, I decided to try out for color guard again and attended summer clinic in 2010. It did not take long for me to realize my dream of marching again would not come true. But after talking it over with color guard instructor Rodney Bailey and band director Ken Bodiford, we decided that I would return to the Southerners as the band photographer. There has never ever been a photographer dedicated solely to the band, so it seemed a natural fit for me."
He has been photographing The Marching Southerners and Ballerinas for six years and enjoys documenting the band behind-the-scenes and on the field. His photos tell the story of the band, from long, hot days at band camp to exhausting bus rides to awe-inspiring performances – and every funny face and inside joke in-between.
"My photography professor told me that seeing my work was the first time he actually 'got' the Southerners," du Pont said. 
His passion for photography spans his entire life, since his grandfather gifted him an old Voigtlander camera when he was in elementary school. He was the yearbook photographer in high school and shot for The Chanticleer student newspaper and the Mimosa yearbook while in college at JSU.
"I first met Mark when he applied for the secretary position in my department," said his supervisor, Dr. Janet Bavonese, head of the Department of Curriculum and Instruction." "Once we began talking I knew that he was someone special and a true Gamecock. I can always depend on Mark's rich knowledge and love of JSU. He is a well-respected advocate of JSU across campus and beyond!"
In advance of Administrative Professionals Day next week, April 27, JSU would like to thank Mr. du Pont and all the support staff who work to make the university run smoothly. Thanks for all you do!