From Bulgaria to Jacksonville: JSU Professor Becomes a U.S. Citizen
From Bulgaria to Jacksonville: JSU Professor Becomes a U.S. Citizen
02/22/2016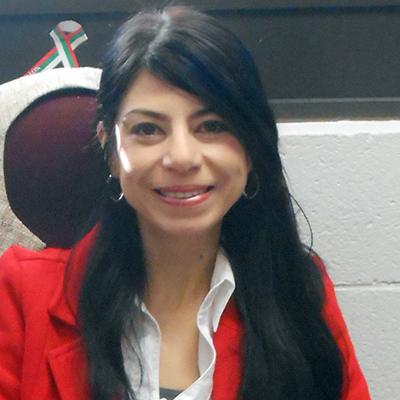 Dr. Raina Kostova (courtesy)
As soon as Dr. Raina Kostova opens her mouth, her bubbly eastern European accent makes it clear that she "ain't from around here." But sitting in her office wearing a red blazer, white blouse, navy blue pants and an American flag bracelet, she is celebrating what she calls her "own personal Fourth of July." The final papers were approved, and she was granted United States citizenship last week. "Now I am part of the 'we' in the 'We the People' in the Constitution," Kostova said with a smile.
Kostova grew up in Plovdiv, Bulgaria, the sixth oldest continuously inhabited city in the world and the second largest city in Bulgaria. It was founded by Alexander the Great's father and still retains traces of ancient Greek culture, including monuments and an amphitheater. Kostova's father was a professor of computer science at a local university. From a young age, though, it was literature that fascinated her.
"I grew up with technology, and I knew how to use it," Kostova said, "but I never had the fascination with it like my brother had. My dad also loved literature, so we had a huge library, and that's what I picked from him."
Kostova earned her bachelor's degree from the American University in Bulgaria in 1999, where she had the opportunity to interact with professors and students from American universities.
"It was one of my English teachers who really made a big impact on me and gave me confidence that I could become an English major," said Kostova. "I didn't have that confidence, especially back then, because English was a second language for me, and I didn't think it was possible for me to be successful with an English major."
But successful she was. From Plovdiv, Kostova moved to Orono, Maine, to attend the University of Maine Orono. There, she earned her master's degree in English. She then attended Emory University in Atlanta, Georgia, where she earned her Ph.D. in comparative literature before arriving at JSU in 2006. This fall will mark her 10th year teaching.
"I remember the first time I came to the South," Kostova said. "It was mid-February, and it was so sunny and warm! It was in the 60s. In Maine, we were snowed in, with blizzards and ice storms. When I arrived here, it was like springtime, and I thought, 'Wow! You guys are living the best life ever!' I fell in love with the South because of the weather."
When she first came to America, Kostova did not have plans of applying for citizenship, thinking that her student visa would suffice. As time went on, however, she got a teaching job, met her fiancé and made a home for herself in Alabama. And with the advent of social media making the world an ever-smaller place, the decision to apply for a green card and, later, citizenship became easier and easier.
"Things have become so different since I first came to America," Kostova said. "When I first arrived in Maine, I felt isolated. I really did feel like I was such a long way from home. I could talk to my family on the phone, but even that wasn't as easy as it is now. Now we have various social media, like Skype and Facebook, that make me feel so much more connected with my family and friends in Bulgaria. I feel like a little piece of my life there is always with me here."
Dr. Kostova recognizes that there have been many people in her life who have helped make this journey to American Citizenship go smoothly: her college professors, JSU colleagues and, most importantly, her family.
"My experience of coming to this country would not have been possible without my parents being so welcoming of all these decisions. I'm very appreciative of that," said Kostova. "My dad was totally encouraging of me to choose my own path in life. He even said, 'When you study literature and the humanities, you can take away from that experiences and skills that will last your whole life. You're building an experience and you're building knowledge that will always be part of you'."
JSU is proud to have Dr. Kostova as a member of the Gamecock family and congratulates her on her citizenship.