Michael Sanders is JSU's 2015 Employee of Year
Michael Sanders is JSU's 2015 Employee of Year
01/22/2016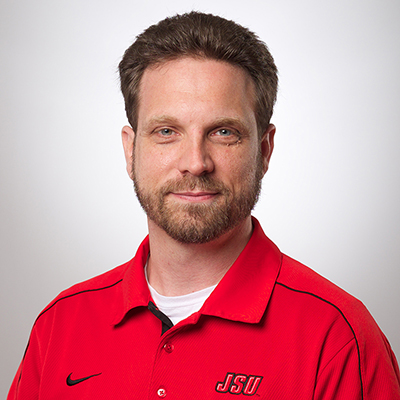 Michael Sanders, JSU Employee of the Year for 2015. (Steve Latham/JSU)
By Katie Cline
Ever since he was a child, Michael Sanders has enjoyed figuring out how stuff works. In December, he learned firsthand how it feels to be recognized for being great at it.
Sanders was named Jacksonville State University's 2015 Employee of the Year during the annual staff awards luncheon on December 14, 2015. Sanders has worked at JSU for 18 years, beginning as an Audio Visual Technician in 1998. He was offered his current job as an Information Technology Support Analyst in 2008 and has held the position ever since.
JSU's Staff Advisory Council chooses the Employee of the Year from among the 12 Employee of the Month recipients. Sanders was Employee of the Month for June 2015. As Employee of the Year he received a plaque and a check from the JSU Foundation.
"It is very humbling, of course," Sanders said. "To be chosen over 11 other well-deserving Employees of the Month, it makes me feel very blessed."
As a child, Sanders and his family moved frequently because his father was a pastor. Sanders was born in Dunn, N.C., but he lived in California, Minnesota and Florida by the time he was seven. He moved to Alabama in the late 1970s and has been a resident of Anniston for the past 36 years.
From the time he was young he has had a passion for technology.
"Even at an early age I loved to tinker with gadgets," Sanders said. "My parents had an old tape recorder, and at one time we had a recording where I recorded my mother telling me not to play with that recorder. I had figured out how to record with it, and, of course, I got discovered."
This childhood fascination grew steadily over the years to the point where Sanders designed and installed a completely new audio system at his current church in Alexandria. He has also built computers at his home for his personal use.
"I have a technical background of just figuring out how stuff works," he joked.  "I read the manual, too, if it becomes absolutely necessary. I learned most all of my skills just by doing and not giving up, as well as listening to others. And of course 'Google it' if all else fails."
Most of Sanders' free time is spent at his church or with this family. He and his wife, Fran, have been married for 17 years. They have a 15-year-old son, Noah, and a 10-year-old daughter, Rachel. Last May, however, Sanders and two of his co-workers started a technology radio show called "Hey Techies." It can be heard Thursday evenings at 7 p.m. on JSU's radio station, WLJS 91.9 FM. The show takes tech help calls and questions and has featured special guests such as meteorologist James Spann, NASCAR analyst Larry McReynolds and travel guru Johnny Jet.
"Every time I get behind the microphone it hits me that I'm really on the radio," Sanders said. "Many of our listeners catch the show online and from places like Maine and Texas. I think, 'What bit of information could we possibly hold that would make even a squirrel want to listen?' but yet we are getting listeners and feedback from them."
But at the end of the day, one of the things that Sanders loves most is his job.
"I love working at JSU," he said. "The real treasures here are the people. To come to work day after day and work with those I do is a blessing.  I really love being able to get out of my office and work in other offices. From installing a new PC and doing all that entails to working on my least favorite product—printers—I do enjoy interacting with everyone.  My toughest day here is better than any of my best days at previous jobs.  I guess some may consider my view of work odd, but I hate to miss work. I guess it comes down to if you really love what you do—not just like it but love it—and for me that sums it up." 
Congratulations again to Sanders for being named JSU's 2015 Employee of the Year, and congratulations to all the 2015 JSU Employees of the Month:
• January- Brandon Maddox, Groundskeeper/Tractor Operator, Landscaping and Grounds Maintenance;
• February- Brenda Holt, Secretary, University Development;
• March- Laura Pruitt, Payroll Specialist, Payroll;
• April- Chris Casey, Learning Management System Administrator, Educational Technology and Support;
• May- Morgan Christopher, Graphic Artist, Marketing Services;
• June- Michael Sanders, IT Support Analyst, Information Technology;
• July- Susan Hurst, Secretary, English;
• August- Tracy Casey, Secretary, Physical and Earth Sciences;
• September- Shelley Kaler, Admissions Counselor, Office of Admissions;
• October- Allison Newton, Coordinator of Proposal Development, Office of Planning and Research;
• November- Courtney Drube, Registrar's Office; and
• December- Mark du Pont, Secretary, Curriculum and Instruction.