PE Students Learn Through "Active" Community Outreach
PE Students Learn Through "Active" Community Outreach
11/30/2015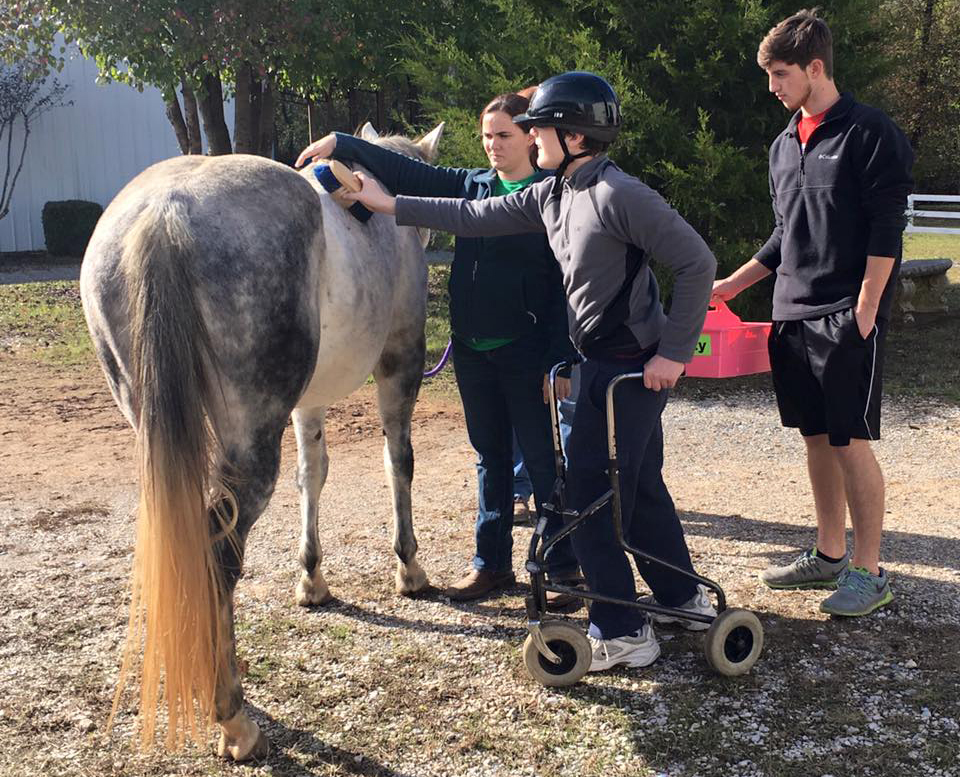 JSU PE students assist with hippotherapy at the Helen Keller School.
by Katie Cline
When it comes to participating in the community, few groups are more "active" than Lori Galloway's P.E. students. For the last eight years, the JSU Department of Health, Physical Education and Recreation has partnered with the Alabama Institute for the Deaf and Blind Helen Keller School in Talladega, and this fall, they began a second partnership with Word Alive International Outreach Church in Oxford.
As part of the HPE 381 Adapted PE class, JSU students are able to visit the Helen Keller School and Word Alive Church and bring the fun of physical activity to people who may not have had adequate access to it before. Activities include an Ultimate Frisbee Challenge every Wednesday and health and wellness seminars at Word Alive Church and assisting with the Helen Keller School's hippotherapy sessions – a type of physical, occupational and speech therapy in which children and adults with physical or mental disabilities ride horses as part of a treatment program. 
Matthew Tucker, a sophomore physical education major from Huntsville, is one of Galloway's students who frequently volunteers with these organizations.
"My favorite part about working with these amazing organizations is the opportunity to make a difference in someone's life," said Tucker. "When I go out to the schools to observe the adaptive physical education classes, the children are so excited to see my fellow classmates and myself and just spending a few minutes talking to every child makes each child's day. Working with the residents of 7 Springs and talking with them along with participating with them in physical activities shows them that people do care about them and want them to be successful in life."
Galloway said, "These opportunities bring our class content to life. For instance, students can read about sign language and communicating with deaf students all day, but until they learn ASL and have the opportunity to experience interactions with actual deaf or deaf and blind students, the content does not become life-applicable. This is my goal in this course – to bring class content to life."  
HPE 381 students have visited the Helen Keller School and Word Alive Church several times this semester, and Galloway hopes to continue these partnerships in the spring through another class. Having these opportunities, Galloway said, is invaluable for her students.
"It gives them critical thinking skills, and the ability to 'think on their feet' when situations occur that are not 'scripted' like in a book," Galloway said. "Having one-on-one interactions with adapted students with disabilities ranging from mild to severe – or even simply developmental, intellectual or mental or even individuals with recovering addiction issues or anger issues – these are all aspects that must be experienced in order to feel comfortable in relational contacts with diverse populations and to sensitively and professionally handle these individuals and situations."  
Tucker agrees, stating, "I do believe this is helping me prepare for my career, because when I get out in my job field, I don't know what every day will bring, so being able to work with these different organizations and experience many different things will only help prepare me for what I will encounter in the my career. Service learning projects will teach young people life lessons that will not only help them in the real world, but will also help them in their personal lives to make them a better person."