Recap of the October 19 JSU Board of Trustees Meeting
Recap of the October 19 JSU Board of Trustees Meeting
10/19/2015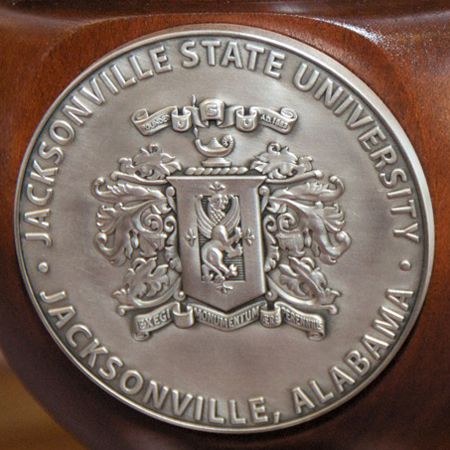 The passage of the university's budget for fiscal year 2016 and a lengthy discussion about enrollment and retention made up much of the Jacksonville State University Board of Trustees' quarterly meeting held Oct. 19 at Houston Cole Library. 
With all but one trustee present, the board had the necessary quorum to approve the university's $112.6 million operations budget containing a state appropriation of just over $37 million, or 32.9 percent of total budgeted revenues. Due to declining enrollment for Fall 2015, projected revenues for student tuition and fees are down $1.1 million, requiring the following measures to be presented for adoption within the budget: five percent cuts to operational budgets for all university departments, a delay until April 2016 (contingent upon funding) of the two percent employee pay increase introduced at the July 2015 board meeting, a delay in filling some vacant positions, and the use of endowed funds to provide student scholarships. 
"Needless to say, this is a challenging time," said trustee Thomas Dedrick as he presented the proposed budget on behalf of the finance committee.
Chairman James Bennett, who served on the board when the university made 10,000 students its enrollment goal in 2007, stated that recruitment must be the university's "number one focus." This year's fall enrollment stands at 8,314. 
"These are certainly critical times that require critical solutions; that underscores the fact that we have to do a better job of student recruitment," Bennett said. "That falls not only on the board and the president, but the staff, faculty, and friends of the university. If each one of us would bring in one student, things would normalize." 
In other business, the board: 
Approved the addition of a 15 semester-hour film technology certificate program, which will prepare students for careers in the film industry. The program will consist of five courses to include Intro to Filmmaking, Film Technology Foundations, Camera and Film Techniques and one elective to be determined by advisor. The program will be implemented in Fall 2016.
Eliminated the concentration requirement within the degree program for art majors as recommended by the art department's accrediting body, the National Association of Schools of Art and Design. In lieu of the concentration requirement, students will now take 12 hours of studio art electives.
Adjusted the amount budgeted for renovations at the President's Home from $236,927 to $421,564 due to additional work that will be needed to make the home ADA compliant. Renovations began Oct. 5 and include complete window replacement and kitchen and bathroom improvements.
Accepted the president's new organizational chart.
Voted to name the learning space set aside in the College of Nursing's new simulation lab the AlaCare Home Health and Hospice Suite.