JSU Drama Announces 2015-16 Season
JSU Drama Announces 2015-16 Season
09/21/2015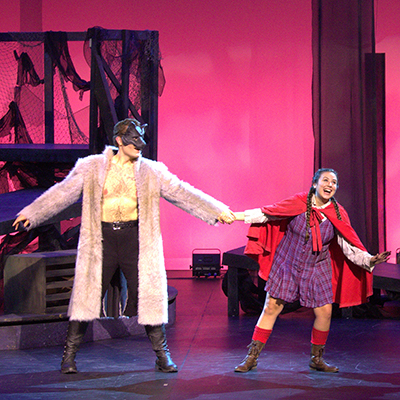 JSU's 2015 production, "Into the Woods." (courtesy/JSU Drama)
By Heather Greene 
The JSU Department of Drama is gearing up for another exciting season of enchanting audiences with breathtaking performances.
"This promises to be a very exciting season, and one that will really highlight the work of our students," said Randy Blades, chair of the department.
"It also represents an effort to bring some fresh, powerful theatrical work to the university and help expand what is possible on our stages. Some of the work is a bit challenging, but I think it will ultimately be very rewarding for our audiences."
The line-up for the 2015-16 season is as follows:
"Dead Man's Cell Phone"
Oct. 15-18 and 22-25
First up on this season's line up is "Dead Man's Cell Phone" by Sarah Ruhl, a comedy that examines the nature of redemption, morality and how in memorializing the dead we can be changed. What starts out with an incessantly ringing cell phone ends up being a strange journey for Jean when she chooses to answer the phone of a man who is…indisposed at the moment. The New York Times has heralded it a beguiling new comedy.
"'Dead Man's Cell Phone' is a play that touches some heavy themes with a pretty light touch," said Blades. "The lead character's journey is one of self-discovery with a bit of satire of modern life but with a pretty romantic outlook. We think it is going to be a great example of how talented our students are in a lot of ways. We are performing it in our black box, which will make it a nice intimate show."
This play is appropriate for ages 13 and older due to some language and content.
"The Bacchae"
November 12-15
Audiences will have the opportunity to explore a 2,000-year-old work with a modern façade. Written by Euripides and translated by Robert Woodruff, "The Bacchae" is one of the strangest and most engaging of the Greek tragedies. Dionysus – the god of wine, prophecy, religious ecstasy and fertility – returns to his birthplace in Thebes seeking revenge.The JSU drama department's modern translation promises to make this a memorable evening of theatre.
"We are setting it in a dystopian future in which Dionysus is the god of 'sex, drugs and rock and roll,' in a society which is denying itself all pleasures," explained Blades. "It is a new look at a traditional story that I think is going to be exciting and challenging."
Due to some content, this play is appropriate for ages 13 and older.
"Bloody, Bloody Andrew Jackson"
February 18-21 and 25-28
Celebrate President's Day this year with a not-so-traditional biographical romp through the life of Andrew Jackson. Dressed as an emo-rock star, President Jackson takes the stage in an audacious musical that follows the journey of America's seventh president – from his early days as a child on the wild frontier to his controversial reign in the White House. This hard-rocking musical explores the life of a man who refused to take no for an answer and will do whatever it takes to get the job done. Through a combination of fact and completely irresponsible bouts of fiction, this is not your mama's history lesson!
"'Bloody, Bloody' is deeply funny, very raunchy and absolutely different than any musical we have done," said Blades. "It looks at Andrew Jackson as a historical figure, but instead of being completely historical, it tells the story by having him played as a rock star. It is some very inventive storytelling that mixes in a lot of historically accurate (at least as it is understood now) details but twists them in a lot of fun ways."
This play is recommended for ages 16 and up due to language and content.
Student Showcase and One Acts
April 9-10
This special showcase of work and achievements by JSU's very talented students will combine the directing class one acts as well as displays of students' achievements in design, technical work, film and performance. Come see the variety of interesting projects JSU's students have been working on throughout the year. Tickets for this show are only $5 general admission.
May Production To Be Announced
Both the JSU community and the public are invited to attend these riveting productions. For ticket information, please contact the JSU drama department at 256-782-5623.
Photo: A JSU drama production (Matt Reynolds/JSU courtesy).