JSU Helps Raise Spirits and $9K for Area Needy
JSU Helps Raise Spirits and $9K for Area Needy
08/30/2015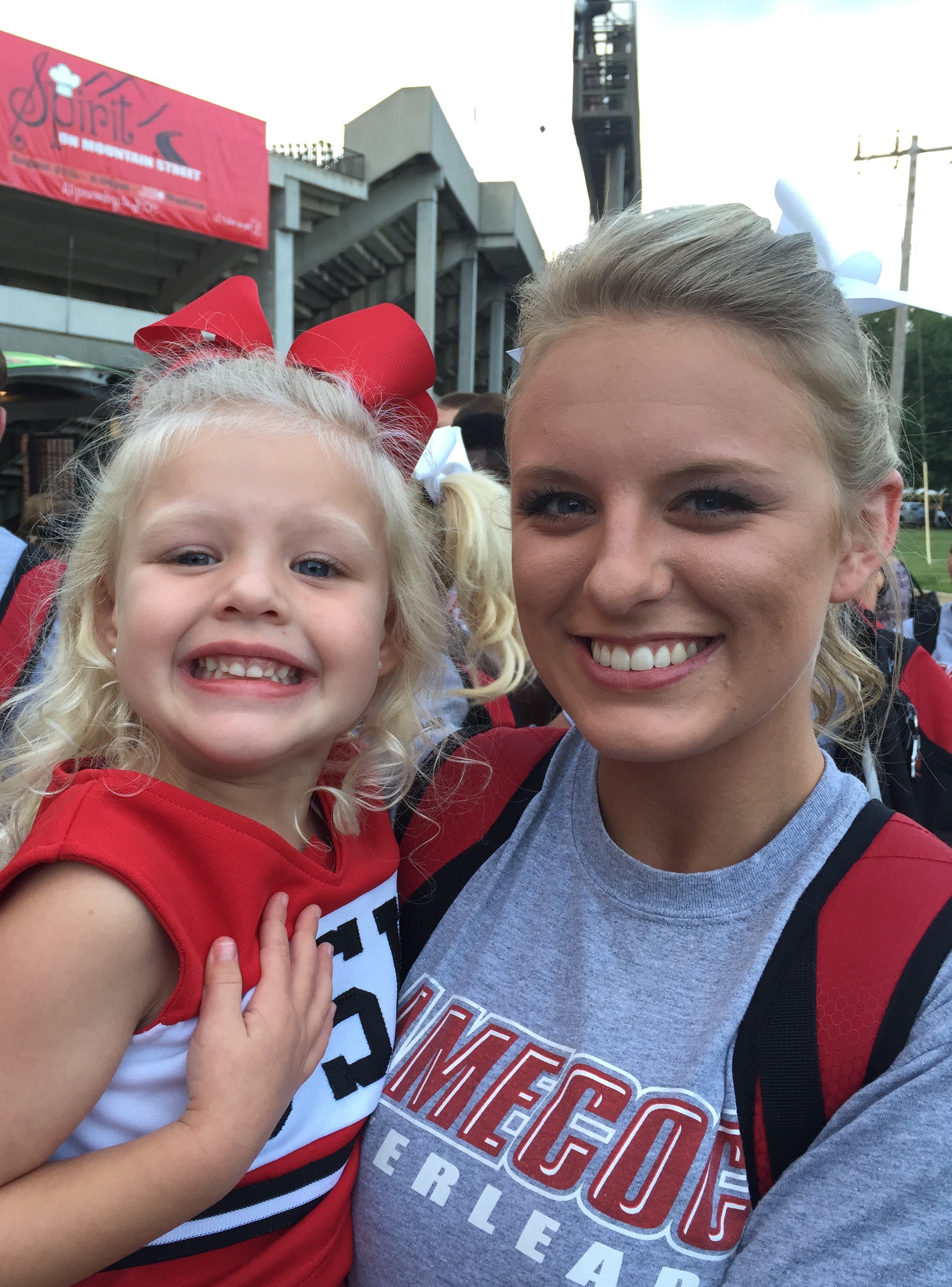 JSU cheerleader Hannah Cronan was joined by little sister Harper, 3, at the community pep rally. Hannah is a sophomore hailing from White Plains. Harper is a future Gamecock cheerleader.
Nearly 2,000 gathered at JSU Stadium on Aug. 27 for the 10th annual Spirit on Mountain Street festival. The event included a taster's fair - featuring samples from 30 local restaurants - and a community pep rally led by students from Jacksonville State, Jacksonville High School, Pleasant Valley High School and Jacksonville Christian Academy. 
Festivities included a children's area, presented by the Jacksonville Exchange Club, which featured face-painting, a bounce house, ring toss and a dunking booth. Three brave contenders participated in a hotdog eating contest sponsored by Sonic. The winner gobbled up six franks and was awarded a Sonic gift card. 
The Kitty Stone Singers kicked off the community pep rally inside JSU Stadium, singing the National Anthem before cheerleaders and marching bands from JHS, JCA and PVHS presented their favorite cheers and tunes. JSU cheerleaders, Cocky and the Marching Southerners rounded out the performances. 
Guests enjoy samples of delicious menu items from local restaurants, including ribs and pork sliders from Cooter Brown's, Greek salad and roasted chicken and potatoes from Roma's, muffins from Java Jolt, cupcakes from Mad Hatter's, frozen ice from Kona's, and much more. More than 20 area churches submitted a freshly baked cake for auction, bringing in a whopping $1,100 in donations. Ticket sales from the food samples and children's activities - sold for $1 each - and other donations brought in an additional $8,100. The event raised, in total, more than $9,200. All proceeds were donated to the Jacksonville Christian Outreach Center. It is the nonprofit's biggest annual fundraiser. 
"Spirit on Mountain Street has been a great event for not only the City of Jacksonville but the surrounding area," Jacksonville Mayor Johnny Smith recently stated. "It is an enjoyable night for the community and, through JCOC, supports those in need the whole year through." 
The Jacksonville Christian Outreach Center is a 501c3 non-profit organization governed by a Board of Directors comprised of representatives from more than 20 participating churches throughout the Jacksonville area. It combines the benevolence of area churches to better assist those in need in the community.