Orientation Offers New Students a Road Map to JSU
Orientation Offers New Students a Road Map to JSU
06/29/2015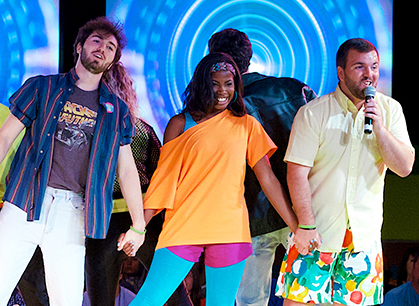 By Drake Davis
Before classes, exams, Greek Rush and meal plans, all JSU students must first get initiated into college life by attending Gamecock Orientation. At this event, incoming freshman are given an opportunity to learn about campus as well as get a preview into what college life will be like through a series of guided tours and planned skits and activities.
This year's orientation is themed around the culture of the 1980s. Staff and students sing and dance to choreographed routines set to pop hits rewritten to inform students of services such as the Academic Center for Excellence. This approach proved popular with the guests.
"It was a lot more interesting than I thought it would be," said incoming freshman Josh Cochran. "It made people pay more attention instead of ignoring it or just talking."
Tristan Corley, a student in the same orientation group, added, "It was neat, creative. I really liked the skits."
The program was written by Terry Casey, Director of Student Life, in conjunction with his assistant directors and a student team of Gamecock Orientation (GO!) Leaders. The GO! Leaders are selected in October, take a class and go on a retreat to prepare for the work of putting the program together in the summer. The set construction takes several weeks and then rehearsal follows for another two weeks.
After the skits are finished, the new students are split into 12 groups, each led by a GO! Leader and a faculty member who is referred to as a GO! Advisor, for a tour of the campus and an overview of basic introductory information about JSU.
Veteran Go! Leader Madeline Jorges, a senior studying family and consumer science, reflected on her orientation experience and the difference it made her freshman year.
"I had been on campus before I went to orientation but I had really just gone to a couple of the buildings," Jorges said. "When I did orientation I got to know more of the campus and I got to see more of the things and hear about more of the services we have here that people wouldn't think about like Counseling and Disability Support Services."
The services offered for students at JSU take front and center for the rest of the day's tour. Students are divided by area of study and taken to meet faculty from that department. After lunch, they take part in a browsing fair where they explore the campus organizations they will be able to join come fall. After the browse session, students are given the opportunity to sign up for classes before they head home for the day.
Parents are also invited to spend the day learning about the campus and services at JSU. Each accompanying parent is taken to their own information sessions and explore the aspects of JSU they are most concerned about for their sons and daughters. Daryl Thomas was glad he joined his daughter on the trip.
"They really gave us a lot of information, not just for the students but for parents to take home and keep," Thomas said. "I'm glad I came to know and experience campus life to a small degree. It's good to be involved and let your child know you support them."
The anxiety of starting a new chapter in life can make events like college orientation awkward, even frightening, and the new Gamecocks who attended orientation last week showed signs of apprehension when entering campus. By the time the tours started, however, they began to warm up. They started talking about campus and why they had chosen JSU. For each, the reasons were different. Some came because of scholarships while others wanted to be close to home. For Jorges, it was fate.
"I had a couple of different options – I even asked a Magic Eight Ball – but I really had my heart set on JSU," she said.
Remaining orientation dates this summer are July 9, 14, 16 and 21.