2015 CORE Academy Proves to be the Best Yet
2015 CORE Academy Proves to be the Best Yet
06/26/2015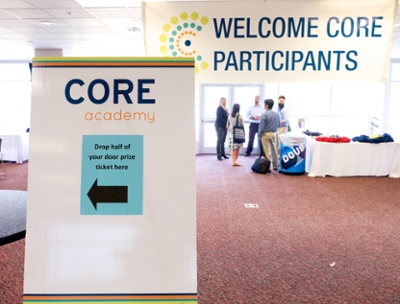 The annual CORE Academy was held June 2-4, 2015 on the campus of Jacksonville State University. The theme this year was "Flipping the Academy." JSU faculty and staff, along with local superintendents, principals, and educators shared their unique and innovative ideas for using technology while flipping their classrooms.
CORE Academy hosted a record-high number of 450 attendees this year. Attendees visiting CORE Academy this year included 33 school systems from across Alabama and Georgia, and three universities from Alabama, Arkansas, and Texas. The school systems with largest number of attendees were: Calhoun County (136), Jacksonville City (39), Anniston City (36), Oxford City (22), Talladega County (22), Piedmont City (21), and Alabaster City (18).
This year's CORE Academy began with an "Innovative Classrooms" pre-conference, hosted by Apple, Inc. This invitation-only pre-conference allowed teachers and administrators the opportunity to share their successes with other Apple Distinguished School and Program Institutions, brainstorm with other educators and leaders, and develop a network of excellence and transformation by interfacing with other innovative educators. Teachers were able to collaborate and learn to re-energize their classrooms with Apple apps, content, and creation tools. 
At this "Flipping the Academy," attendees learned the flipped classroom approach. In a flipped classroom, students watch lectures or read materials at home. Class time is reserved for collaborative activities that help reinforce concepts and increase engagement. CORE Academy presenters distributed articles, videos, or other resources via the CORE app, which allowed attendees to view these materials prior to the CORE Academy. This viewing allowed attendees to learn how they can flip their own classrooms, or they could use the information to decide on the presentations they most wanted to attend.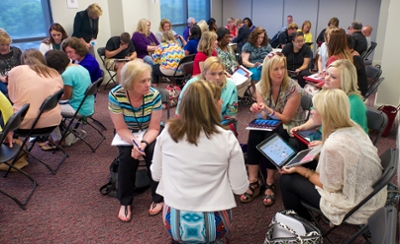 There were approximately 90 concurrent sessions. Some of the types of sessions included: Flipping a Classroom, TEA Parties, Technology Integration into Classrooms, Apps for the Classroom, App Smashing, Augmented Reality, Formative Assessments, Project-Based Learning, Game-Based Learning, and Virtual Campfires.
Keynote speakers this year were Dr. Rueben Puentedura, Founder and President of Hippasus, who presented his SAMR (Substitution, Augmentation, Modification, Redefinition) Model with teachers to discuss with them how they may evaluate ways they are incorporating technology into their classrooms.
Sponsors for this year's Academy were Howard Technology Solutions, Curriculum Associates, Instructure and the JSU Institute for Research and Collaboration.The second keynote speaker was Ron Clark, known to many as "America's Educator," Ron Clark was the 2000 Disney American Teacher of the Year, a two-time New York Times Bestselling author, the subject of a television movie and the founder of The Ron Clark Academy. During his presentation, he shared many of his life and classroom adventures. He delivered a motivational message that was relevant to everyone about achieving hopes and dreams, and living life to the fullest.
For more information about JSU's CORE Academy, please click here. 
Top right photo: CORE welcome sign (Steve Latham). 
Bottom right photo: CORE attendees gain new technology tips to use in their own classrooms (Steve Latham).