JSU Recognizes Outstanding Faculty at May 12 Awards Program
JSU Recognizes Outstanding Faculty at May 12 Awards Program
05/20/2015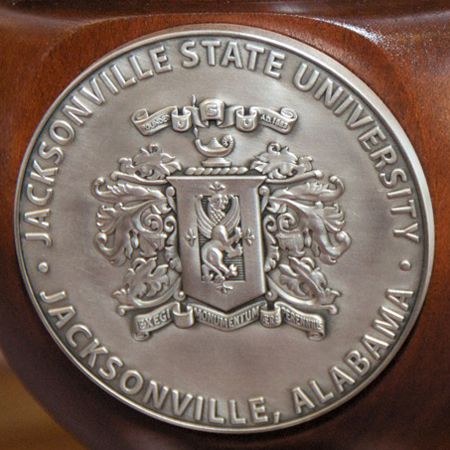 Jacksonville State University recognized outstanding faculty awards winners, faculty research award, tenure and promotion recipients as well as retirees and scholars at the annual Faculty Awards Program on May 12 on the fifth floor of William A. Meehan Hall (formerly Stadium Tower).
Winners of the 2015 Outstanding Faculty Awards were:
Earlon & Betty McWhorter Outstanding Teacher Award- Dr. James Rayburn, associate professor of biology;
Cleo & Carla Thomas Award for Outstanding Community Education/Service- Dr. Cynthia Connor, assistant professor of special education, and Ms. Lynetta Owens, instructor of special education, coordinators of the Transition U program;
Faculty Scholar Lecturer Award- Dr. Carmine DiBiase, professor of English;
Raymond & Ruth Ringer Faculty Development Award- Dr. Manabu Saeki, associate professor of political science/public administration;
Dr. George Mehaffy Excellence in Learning Technology Award- Mr. Rodney Bailey, instructor of English.
A new award was announced at this year's ceremony. The William A. Meehan Legacy Award honors a full-time faculty member with at least 25 years of service to JSU who has significantly advanced the mission of JSU through outstanding, career-long contributions in teaching, professional effectiveness, research, or service. The award carries a $1,000 honorarium and a framed certificate that recognizes the accomplishment.  For its inaugural year, the award was presented to its namesake, outgoing JSU President Dr. Bill Meehan. The honorarium for the first winner was placed into the scholarship created in Dr. Meehan's name earlier this spring. Future nominations for the award can be submitted to the Council of Deans via the Office of the Provost/VPASA.
Others recognized at the Faculty Awards program were:
2014-2015 QEP Faculty Mentors
Rodney Bailey, Randal Blades, Jan Case, Samuel Chukwuemeka, Llewellyn Cook, Gordon Harvey, Carrie Kirk, Tamara Levi, Mica Mecham, Joe Morgan, Teresa Reed, Erin Rider, Tanya Sasser, Stephen Tsikalas.
Service Pin Recipients
Ten Years- Renee L. Baptiste, Jimmy Barnes, Paula R. Buchanan, Douglas B. Clark, Misty A. Cothran, Tina H. Deshotels, Teresa J. Gardner, William A. Kiser, Daniel T. Krejci, William L. Lester, Betty J. Morris, Tammy Morrow, Nixon O. Mwebi, Stan Newton, David W. Palmer, Andrea J. Porter, Donald S. Prudlo, Jeffrey Ryan, Jeremy L. Stovall, Monica Trifas, Phyllis B. Waits.
Fifteen Years- Noureddine Bekhouche, Ronnie J. Clayton, David W. Dempsey, Paula J. Ellis, Benjamin A. Hardy, Miriam H. Hill, George M. Lauderbaugh, John A. Logsdon, David A. Steffy, Hanrong Wang, Jeffrey A. Zanzig, Nouredine Zettili.
Twenty Years- David H. Myer, Edwin H. Smith.
Twenty-Five Years- Cynthia S. McCarty.
Thirty Years- Elizabeth A. Engley, Arland B. Henning, Harry D. Nuttall.
Thirty-Five Years- James Sewastynowicz.
Forty Years- Linda L. Cain.
Taizhou Scholars
Thomas McCutchen, Ellen Peck.
Faculty Receiving Doctorates

Dr. Janet Bavonese, Curriculum and Instruction; Dr. Sarah Donley, Sociology and Social Work; Dr. Lori Hill, Nursing; Dr. Kim Townsel, Family and Consumer Science;
Retiring Faculty
J.D. Abercrombie, LaJoyce Debro, Celia B. Hilber, Nina King, William Kiser, Betty Morris, Charles Notar, Jerry Reaves, Douglas Taylor, Julia Wooster, Lawson Veasey.
Promotion and Tenure
Associate Professor 
(Effective October 2015)
Khyun Kim, Eduardo Pacheco, Linda Plotnick, Shannon Robertson, Christi Shelton, Yingqi Tang.
Professor 
(Effective October 2015)
Timothy Barnett, Wendy Freeland, Jane Kushma, William Lester, Anita Kay Prickett, Nancy Stewart, Tommy Turner.
Distinguished Lecturer 
(Effective October 2015)
Audria White.
Distinguished Professor
 (Effective October 2015)
Guillermo Francia III.
Tenure
 (Effective Fall 2015)
Joseph Akpan, Eduardo Pacheco, Linda Plotnick, Shannon Robertson, Christie Shelton, Yingqi Tang.
Faculty Research Awards
College of Arts and Sciences- Jonathan Adams, Timothy Barnett, Dean Buttram, Jan Case, Sarah Cusimano-Miles, Richards Davis, Carmine DiBiase, Sarah Donley, Robert Felgar, Guillermo Francia III, Joanne Gates, Larry Gray, Richard Kania, Kihyun Kim, Jaedeok Kim, Youngmi Kim, Srinivasarao Krishnaprasad, Carlette Patrice Lockett, Paige McKerchar, Todd McKerchar, Mark Meade, Ronald Mellen, Chris Murdock, Linda Plotnick, James Rayburn, Erin Rider, Jamie Runnells, Manabu Saeki, Roger Sauterer, David Steffy, Nancy Stewart, David Thornton, Lori Tolley-Jordan, Minca Trifas, Jimmy Triplett, Steven Whitton, Lisa Williams.
College of Commerce and Business Administration- Benjamin Boozer, Shawn Carter, Ronnie Clayton, Taleah Collum, Ben Hardy, Mark Hearn, Robert Landry III, Keith Lowe, Cynthia Sneed, John Sneed, Falynn Turley, Jeffrey Zanzig. 
College of Education and Professional Studies- Joseph Akpan, Linda Allen, Jimmy Barnes, Janet Bavonese, Noureddine Bekhouche, Robbie Boggs, Cynthia Connor, Elizabeth Engley, Jeannie Frazier, Lori Galloway, Teresa Gardner, Alan Gilbert, Debra Goodwin, Kingsley Harbor, Celia Hilber, Kory Hill, Kyoko Johns, Nina King, Jerry Kiser, William Kiser, Gina Mabrey, Jill Marsh, Betty Morris, Reggie Overton, Lynetta Owens, Kelly Paynter, Andrea Raines, Tim Roberts, Emily Sims, Melinda Staubs, Gena Thornburg, Roland Thornburg, Kim Townsel, Jennifer Troncale, Hungwei Tseng, Melanie Wallace, Butch Young.
College of Nursing- Elizabeth Gulledge, Kimberly Helms, Lori Hill, Rebecca Peinhardt, Christie Shelton, Phyllis Waits, Laura Walker, Myrna Williamson.
Houston Cole Library- Paula Barnett Ellis, Carley Knight, Bethany Latham, Harry Nuttall, Jodi Poe, Kimberly Stevens, Yingqi Tang, Charlcie Vann.