Flutist Olivia Brown Wins National Honor
Flutist Olivia Brown Wins National Honor
05/30/2015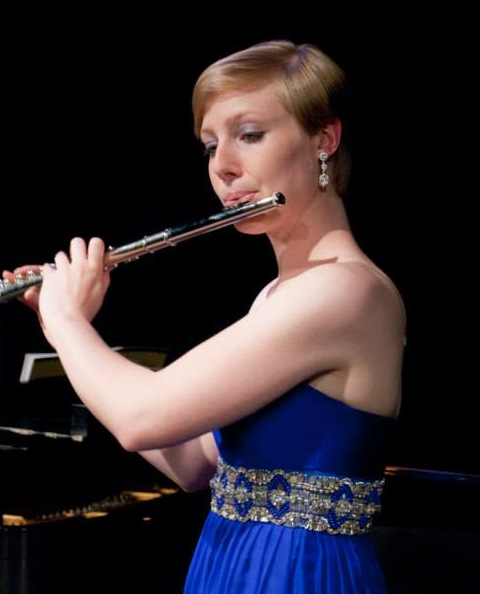 Flutist Olivia Brown (courtesy, Mark duPont)
Olivia Brown, who just graduated from Jacksonville State University in May, is already making a name for herself in the world of music. She won first place in the Orchestral Winds Division of the Federation of Music Clubs Collegiate Solo Competition - making her one of the best flute players in the U.S. She had already captured first place in the state level of the competition. 
"I was so honored to be named the recipient of these awards," said Brown. "I had entered the state level of the same competition last year and received second place, so to win first place at the state level this year was a sign to me that I had made improvement and grown as a musician. That was extremely rewarding. However, I was not expecting to win at the national level. I've entered several competitions during my college career and I've learned not to put too much hope in entering the national level of a competition…It was such a genuine shock to me, and I could not be more grateful. It still surprises me when I think about it."
In addition to playing the flute, Brown has also played cello for nine years. The versatile musician  played saxophone in her high school jazz band and can even play a little euphonium. While a student at JSU, she was a member of the JSU Community Orchestra. She became interested in music in the sixth grade when her mother encouraged her to join the band.
"I fell in love with the flute, and it became an amazing creative and emotional outlet for me," Brown said. "Playing an instrument gave me a purpose and motivated me to excel in other areas as well. I knew early on that I wanted to spend my life making music and sharing it with others. I never thought of doing anything else with my life. Majoring in music seemed like the logical next step for me because it would equip me to teach music to others and help me improve my flute playing. My flute professor, Dr. Jeremy Benson, was a huge inspiration to me. He is an amazing flutist and teacher, and he shaped me into the musician and person I am today. I couldn't have accomplished any of this without his instruction, constant support, and unwavering faith in me."
Brown was one of 15 seniors who walked across the stage with a 4.0 GPA in the second largest graduating class in JSU history last month. This fall, she will begin graduate school at the University of South Carolina to pursue a master's degree in flute performance. Following graduate school, she hopes to play in a symphony orchestra and teach flute at the college level.