Recap of the April 20 JSU Board of Trustees Meeting
Recap of the April 20 JSU Board of Trustees Meeting
04/20/2015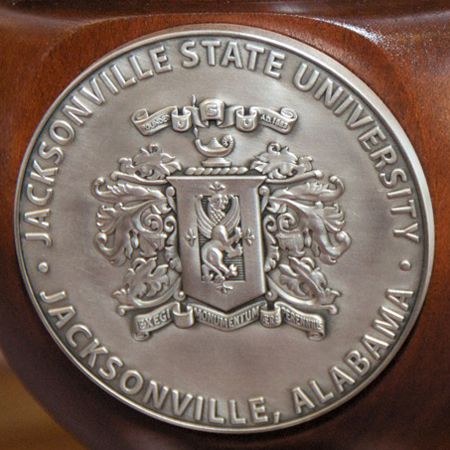 The Jacksonville State University Board of Trustees held its quarterly meeting on April 20, 2015 at the Houston Cole Library. It was Dr. William A. Meehan's final meeting as university president. 
The meeting began with board recognition and expressions of appreciation, first to First Lady Beth Meehan, and then for Dr. Meehan, 64, who was attending his 64th meeting as president. Both received standing ovations. Later in the meeting, Dr. Meehan was presented with a board resolution renaming Stadium Tower the William A. Meehan Hall in his honor. 
In action the board:
• Approved a tuition increase for Fall 2015, the first tuition increase at JSU in two years. Acting on behalf of the Building and Finance Committee, chair Ronnie Smith brought the recommendation to the board, citing deferred maintenance, increased cost of state retirement benefits for faculty/staff, and a recommended 2 percent cost of living raise for employees, as reasons for the increase. 
Resolution 564, which passed with no dissenting votes, increases tuition for undergraduate, in-state students from $283 to $300 per credit hour effective this fall. Dual enrollment will be charged at one half of the undergraduate rate. Graduate tuition for in-state students, including doctoral students, increases from $349 to $371 per credit hour. Tuition for out-of-state students will be $600 per credit hour for undergraduates, $742 per credit hour for graduates. 
Distance learners will also see an increase to $362/credit hour (currently $345/credit hour) for undergraduates; $461/credit hour (currently $439/credit hour) for graduates. 
Nursing majors will also see a $200 per semester fee for the required five semesters after they have been accepted into the program. 
Further adjustments have been made to meal plans and residential housing for the 2015-2016 academic year. The meal plan will increase to $1,350 plus tax per semester. Housing adjustments are outlined here.
• Voted to add sand volleyball to JSU as a spring sport. The addition will not be a new expense for the university, as the coaches and players from the fall season will compete in the sand league, using the court adjacent to Stephenson Hall. The addition of the sport could also result in added recognition for JSU Athletics. 
• Authorized the president to proceed with Phase II of modifications to Pete Mathews Coliseum to include flooring and seating at an anticipated total cost of $2.2 million. The project costs will be paid partially from the refunding of the Series 2008 bonds in 2014 and partially from other internal funding.  
During committee meetings and general session, the board discussed Phase II of the renovation of Pete Mathews Coliseum - which calls for the installation of new flooring and seating. The board approved changing bleacher seat colors from all-red seats to alternating seat colors of red, black and white. They also addressed the increased budget for the project. Originally projected to cost $1.5 million, Infinity Architecture informed the board the anticipated total cost of the project is $2.2 million. Taking into account that it would cost $25-50 million to construct a new coliseum, board members agreed to move forward with the $2.2 million renovation of the 45-year-old facility. The project is partially paid from refunding Series 2008 bonds in 2014. Construction is set to begin May 12, with an expected completion date of August 31.   
• Heard the recommendation from the presidential search committee in executive session. "The board of trustees has evaluated the competency of all the candidates and found all to be qualified. There is some additional vetting that needs to be done and we hope to have an announcement in the next two weeks. We are fortunate to have such a talented candidate pool to pick from," said Trustee Chair Jim Bennett.
View Reports from the Meeting:
Provost and Vice President for Academic and Student Affairs
Vice President for Information Technology
Vice President for University Advancement