Meet the 2015 Marching Ballerinas at the Annual Ballerinas Showcase on May 9
Meet the 2015 Marching Ballerinas at the Annual Ballerinas Showcase on May 9
04/30/2015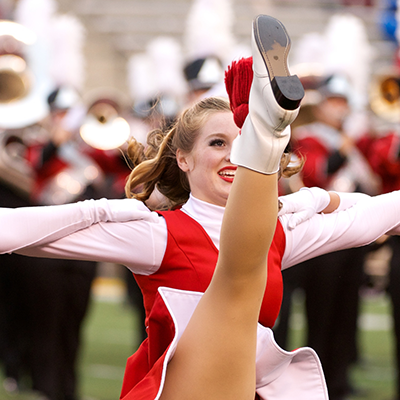 The 2015 Marching Ballerinas line will perform together publicly for the first time at the annual Marching Ballerinas Showcase on Saturday, May 9 at 7:30 p.m. in the Mason Hall Performance Center. Fresh off their spring auditions, the Ballerinas will perform beloved dances such as Quilting Party for the first time this season. Also on their dance cards for the evening will be solos from the head Ballerina and group leaders, as well as modern and traditional style dances featuring the veteran and "baby" Ballerinas. This event will also showcase dances choreographed by alumna Ballerinas featuring our Ballerinas' talents in tap, lyrical and kick performances!

A $5 donation per person at the door is appreciated and all donations are welcome. Proceeds from the showcase will help pay for new uniforms. Each Marching Ballerinas is getting a new Santa suit and modern uniform this year! 
For more information please contact Ballerinas coordinator Noelle Stovall.