JSU Hosts Annual International Week Celebration April 12-17
JSU Hosts Annual International Week Celebration April 12-17
04/13/2015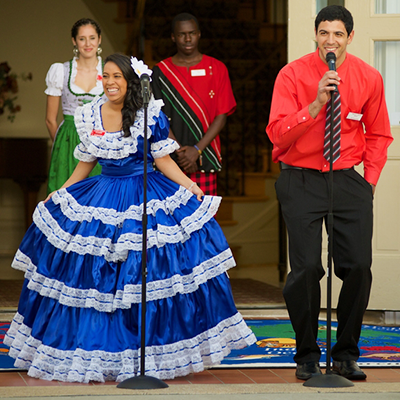 The United Nations Day Tea at JSU's International House takes place each fall during homecoming. (Matt Reynolds/JSU)
There's a building on the campus of Jacksonville State University, across the street from Martin Hall, in that corner between Highway 21 and Highway 204. There's a sign out front that should let people know what it is: Clarence W. Daugette, Jr. International House.
For many residents of Jacksonville and the campus, that sign doesn't communicate much. If asked what the International House is, people might answer that it's the place where international students live, where international student organizations hold their meetings, or where that fancy chandelier and spiral staircase are.
In fact, it is all those things and so much more.
The International House Program at JSU started in 1946 in the wake of World War II and the hatred and brutality of that conflict. The founders of the program, Dr. and Mrs. James H. Jones, sought to create a place where people from different countries and cultures could get to know each other, for the Joneses believed that knowledge and love are the best path to a world without war. As Mrs. Jones wrote, "It is doubtful that any of us have any real comprehension of the power inherent in simple human kindness. That kind of care and concern for one another is what the whole world stands so sorely in need of today. This then has been the primary aim of the International House Program – to prepare young people to do their part in meeting that need."
The current day-to-day world of the International House doesn't stray far from this original primary aim. Students from the U.S. share rooms with students from across the globe. Currently, residents of the House come from twenty-one different countries. The international residents of the House are on full scholarship and must maintain rigorous academic standards to remain in good standing in the program. Each week, residents and visitors to the house meet and participate in a presentation by a resident or group of residents about their home country.
Residents also participate in service events on campus and in the community. So far this semester, residents have participated in the Girl Scouts World Thinking Day, visited a Women's Club meeting and an Interfaith Study Club meeting, represented the House in classrooms, and represented the university at Preview Day. Last semester, residents visited Kitty Stone Elementary school, several classes on the JSU campus, and the ROTC program. For such events, residents give presentations and answer questions about their countries, often with a particular emphasis on cultural differences. American students also participate, talking about the International House Program and how it has changed their perceptions of world culture and their place in it.
Social activities for residents also abound at the House; even when they are not in the classroom, they are learning. Parties, karaoke nights, and trips to Alabama landmarks like the Birmingham Civil Rights Institute and the Huntsville Space and Rocket Center all add to the educational experience of international and American students alike. We are always looking for new ways the residents can teach and learn on campus, in Jacksonville and throughout the surrounding area.
The International House will be celebrating its 70th anniversary in 2016. Stop by and get to know us. Call 256-782-5313 or email Ellen McNeeley, the House coordinator, if you would like to know more or to have some of our residents visit your organization.
--Dr. Teresa Reed
International Week Events
April 13
The Silent Auction will be held in the dining room of the Jones International House from 9 a.m. until 4 p.m. Various objects from students' native countries will be available for auction. That night a soccer game will be held at 5 p.m. on the field next to Stephenson Hall.
April 14
The Silent Auction will continue in the Jones International House dining room from 9 a.m. until 4 p.m. 
April 15
A Game Night will be held in the International House basement, 5 p.m. to 9 p.m. Following Game Night, there will be a weekly International House meeting.
April 16
"Ida", which won an Academy Award for Best Foreign Film, will be shown at 8 p.m. in the International House basement. 
April 17
International Week will wrap up with the Vibe party in the International House basement, from 7 p.m. until 11 p.m.