Drama Students Debut as Directors on April 18-19
Drama Students Debut as Directors on April 18-19
04/15/2015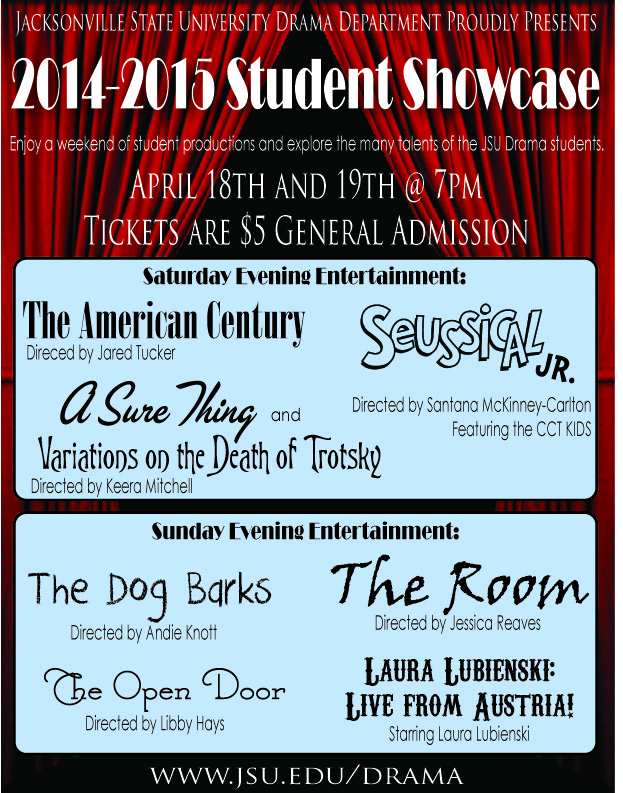 JSU drama students get to sit in the director's chair this weekend at the annual JSU Student Showcase on April 18 and 19, 7 p.m., in the Stone Center for the Performing Arts. Students enrolled in JSU's directing class this semester will present a series of one-act plays they have had the opportunity to cast, rehearse and coordinate themselves.
"This is a great opportunity for our students to learn and provides a lot of chances for artistic growth as they learn how to direct actors and coordinate technical and design elements in the creation of a play," said Randal Blades, chair of the drama department. "The department is so proud of the work our students have done through the year and we see this as a chance to show the public and our audiences at least a bit of what our students are capable of."
Some of the plays to be performed are from scripts written during a JSU playwriting course last semester. In addition to the one-act plays, a display in the theatre lobby will feature student design and technical projects not always seen by the public, including scene-painting, stage management, scenic and costume design, and scenic, prop and costume projects.
Admission is $5 each day. The schedule is, as follows:
April 18
"The American Century"
Directed by Jared Tucker
A comedic take on the generation gap, family values and the difference between the so-called Greatest Generation and the Not-So-Greatest Generation
"A Sure Thing" and "Variations on the Death of Trotsky"
Directed by Keera Mitchell
Enjoy two hilarious, mind-bending avant garde scenes
"Seussical Jr."
Directed by Santana McKinney-Carlton
The always fun, family friendly musical you know and love, based on the work of Dr. Seuss, especially performed by local young actors from CharACTers Children's Theatre!
April 19
"The Dog Barks"
Directed by Andie Knott
JSU playwright Michael Donahoo has penned this tense, two-person drama exploring a troubled relationship
"The Open Door" 
Directed by Libby Hays
A touching, classical piece about the social rules of the upper-class and a love that was not meant to be
"Lara Lubienski: Live From Austria"
A one-woman show, this cabaret is a selection of various monologues and musical theatre songs highlighting the work and growth of performance student Lara Lubienski as part of her self-generated Senior Project
"The Room"
Directed by Jessica Reaves
Written by JSU student Tanner Cain, this psychological thriller explores the horrors of the past and the struggle to conquer true fear
"We hope this will be not only a great experience for our students – after all, what better way to prepare for the professional working world of theatre than having to do this – but also our audiences," said Michael Boynton, assistant professor of drama and teacher of the directing class. "It will not only avail our audiences to all sorts of different pieces, but show them how hard our students work and what they do. It should be a lot of fun for them to see the student's work and hopefully educate them a little as well!"
For more information, visit www.jsu.edu/drama.