JSU, City to Co-Host May 17 Cheaha Challenge Gran Fondo
JSU, City to Co-Host May 17 Cheaha Challenge Gran Fondo
04/28/2015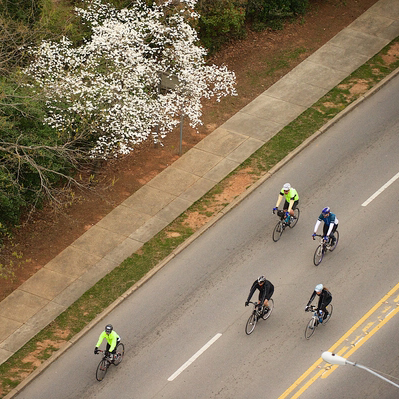 Riders on the JSU campus during Cheaha Challenge 2014. (Matt Reynolds/JSU)
It's one day, three rides, up to 124 miles and 11,733 feet of climbing in some of the most picturesque scenery in the South. It is the 23rd annual Cheaha Challenge Gran Fondo, and it starts right here on the Jacksonville State University campus on May 17.
For the second straight year, JSU and the City of Jacksonville will co-host the Challenge, which begins and ends at Pete Mathews Coliseum.
The Cheaha Challenge Gran Fondo Century & ULTRA provide a variety of distance choices - 24, 44, 62, 84, 100 and the ULTRA - 124 miles (200K). The ULTRA is for experienced riders only.
The Century ride includes 9,714 feet of climbing including the top of Alabama, and the ULTRA encompasses all major climbs in our area, for a total of 11,733 feet of climbing. The ride takes cyclists along the scenic and rugged terrain of the Talladega Mountains, and includes nine rest stop locations for the Century ride and 11 rest stop locations for the ULTRA.
For cyclists who aren't quite up to the Challenge, there is the Chief Ladiga Cruise, a 24-mile bike ride from Jacksonville to Piedmont and back along the picturesque Chief Ladiga Trail. Participants in this ride can expect rural vistas as they peddle the rail trail past beautiful Dugger Mountain, Alabama's second highest peak. The trail traverses creeks, and riders will likely have abundant wildlife to keep them company. This ride is for cyclists of all ages and levels; cyclists age 10 and under can ride free.
Online registration for the Cheaha Challenge Gran Fondo is open on USA Cycling and closes Friday, May 15, 2015 at midnight CT. Paper registration will be accepted up until the morning of the event. Registration is $65 through May 16, $70 day of race. The Chief Ladiga Cruise Ride is $25.
Complete race details are available on the Cheaha Challenge website.
Jacksonville State University is pleased to host Cheaha Challenge '15 participants. We hope you have a great stay in our city! 
We also encourage everyone in our community to get out on race day, cheer on the riders and welcome our visitors to the "Gem of the Hills." That's one challenge we can all accept!
Enjoy this recap from last year: