Graduating Miss Daisy: 72-year-old proves it's never too late to earn degree
Graduating Miss Daisy: 72-year-old proves it's never too late to earn degree
04/29/2015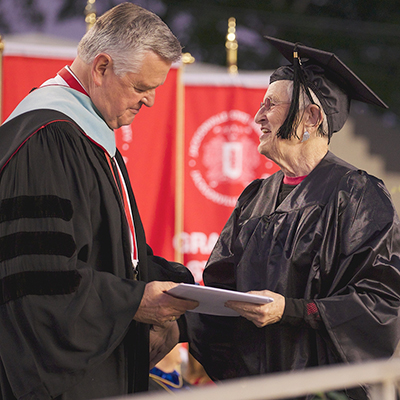 By Heather Greene 
A fixture on JSU's campus, Daisy Mae Stanley, age 72, wears many hats: wife, mother, grandmother, great-grandmother, Episcopalian, computer analyst, artist, painter, printmaker and gardener. On Friday evening, she will cross the stage on Burgess-Snow Field and add another hat to her collection – a four-cornered graduation cap to be exact – and a title that's been years in the making: Jacksonville State University alumna. 
Growing up in the Birmingham area, Daisy attended Shades Valley High School, which produced another familiar face around campus – President William A. Meehan. 
Daisy has been a non-traditional student most of her adult life. She took classes at the University of Alabama at Birmingham during the 1970s as a single mother. When she met her husband, Gary Stanley, his work led them to Austin, Texas, where she earned an associate's degree in human services. Together, they have two daughters, several grandchildren and a great-grandchild.
So what brought Daisy to the Jacksonville area?
"You might say chemical weapons brought me to JSU," jokes Daisy, as the couple came to the Jacksonville community when Gary, a retired U.S. Air Force officer, took a job at the Anniston chemical weapons incinerator. 
For Daisy though, the move meant a chance to earn a degree from a school with a printmaking studio. Ironically, it was a discussion of printmaking that led her to connect with Meehan. Several years ago, she was standing outside on campus chatting with a man about how excited she was to be living near a college that had a printmaking studio. Little did she know she was talking with the president, and the two soon found out that they once went to school together at Shades Valley.
"I always felt like we were friends," Daisy said regarding Meehan or "Bill," as she calls him. Like thousands of other students, she was impressed by his friendly and welcoming demeanor. 
Daisy has a true love of learning and enjoys taking courses to continue her education. Having close to 400 credit hours – when a typical bachelor's degree program is only 120 hours – caught the eye of JSU registrar Emily White, who encouraged Daisy to take the remaining courses needed to get a degree in exchange for all that hard work.
"Why not? I'm only 72," thought Daisy, who had been hesitant initially about "wasting" a year of her life taking the science courses necessary to graduate. She now encourages people to take classes they might not normally take to learn something new.
At the time she decided to graduate, Daisy did not know she would be part of the last graduating class under Meehan's administration. "I am so glad he will be signing my degree," she said. "He is someone I really admire."
Daisy insists she will need Meehan to give her a hug when she crosses that stage to receive her degree. While not the oldest degree candidate in JSU's history, she openly acknowledges she is a non-traditional student and would encourage anyone of any age who might be considering returning to school to "do it!'"
When asked about her experience at JSU, Daisy glowingly exclaimed, "Oh, I can't say enough!" Being an artist and liberal arts major, of course her favorite classes were her art classes.
"The art department and its faculty and staff are like a family to me," Daisy lovingly explains. "I have found a new respect for the 'required' or core courses also. I truly enjoy learning outside my field. I encourage every student to get everything they can out of even those things they are not interested in. They might find they love it."
Daisy also enjoys encouraging and interacting with JSU's younger art students, who affectionately refer to her as "Miss Daisy."
"So many people have a negative attitude about young people, but these kids are wonderful," said Daisy regarding the many students she has had the opportunity to interact with.
In addition to her studies at JSU, Daisy belongs to the writing group at the Jacksonville Public Library. She also enjoys gardening and proudly has more than 100 flowers growing in her yard. "I like to have a yard that sings 'alleluia' with the beauty of nature," she said.
What are Daisy's plans following graduation? She plans to return to school in the fall to pursue another degree. She would also like to write a memoir of her life, write a children's book, garden, make art just for fun, and continue working with and encouraging the art students at JSU. She also has a dream of somehow bringing the young and artsy together with the elderly in the community to create therapeutic art classes. No matter where she goes next, Daisy is certain to continue being a lifelong learner.
In addition to Daisy, 797 candidates have applied to graduate from JSU on Friday evening. JSU's Spring 2015 Graduation will take place on Burgess-Snow Field on Friday, May 1, at 6:30 p.m. The public is welcome to attend.
This article originally appeared in the "Town and Gown" of the Jacksonville News. 
Photo: Daisy Mae Stanley receiving her degree from Dr. William A. Meehan (Steve Latham/JSU).