JSU Trustee Board Member and Former Alabama Secretary of State Jim Bennett Being Honored
JSU Trustee Board Member and Former Alabama Secretary of State Jim Bennett Being Honored
03/18/2015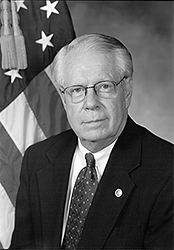 JSU Trustee Board member and former Secretary of State Jim Bennett will be honored by Governor Robert Bentley and Secretary of State John H. Merrill on Wednesday, March 18, 2015 from 2:00-4:00 p.m. in the Old House Chamber of the Alabama State Capitol followed by a public reception in the Alabama Archives & History building's Milo B. Howard auditorium. The public is invited to attend both events. With 12 years of service, Jim Bennett is distinguished as one of Alabama's longest-serving Secretaries of State.
Secretary of State Merrill took the reins of the office from Secretary Bennett on January 19, 2015, following his most recent 16-month term in office. Secretary Bennett first served as Secretary of State from 1993-2003, and he returned from 2013-2015. 
 
"Governor Bentley and I wanted to take this opportunity to acknowledge the great work that Secretary Bennett has provided the citizens of Alabama and to simply say thank you on their behalf," stated Secretary of State John Merrill. "The position of Secretary of State is by no means an easy job, but Secretary Bennett has dedicated and distinguished his service to and for the people of Alabama with an exemplary record."
 
Secretary Merrill and Governor Bentley will both provide declarations at the recognition ceremony, and the public is invited to attend.
 
For more information about the services provided at the Alabama Secretary of State's Office click here.