JSU Elects New Student Leaders
JSU Elects New Student Leaders
03/20/2015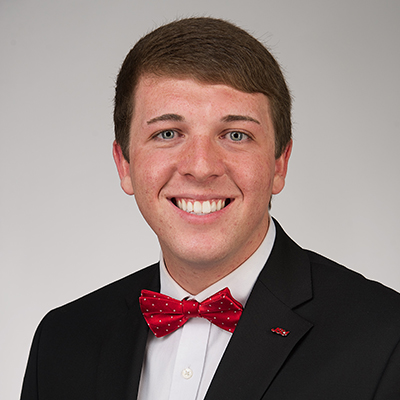 JSU's 2015-2016 SGA President, Tyler Brown. (Steve Latham/JSU)
The student body at Jacksonville State University recently hit the polls to elect its new Student Government Association leaders for the upcoming school year. The university community can look forward to working with the following new faces in 2015-2016.
Tyler Brown, SGA President
Brown currently holds the office of Vice President of Student Senate. He has also served as President of Freshman Forum. Along with being a JSU Ambassador, he performs with the Encore! Show Choir and is a member of Sigma Nu fraternity. As president, he said his goal is to further advance the work the SGA has been working to accomplish in recent years and serve as a strong student voice to the administration.  
Dylan Jones, Vice President of Organizational Affairs
Jones currently serves on Student Senate and is Vice President of the Student Activity Council. The JSU Ambassador is also a member of Pre-Law Society, Alpha Kappa Psi, Sigma Alpha Pi, and the YMCA Collegiate Legislature. He said he wants to revamp the Organizational Council, utilize all organizations on campus in a more effective manner, while also providing a stronger sense of unity between all organizations. 
Ariel Tolson, Vice President of Student Activities
Tolson currently serves as Vice President of Organizational Affairs. She is a member of Alpha Kappa Psi and Omicron Delta Kappa. She said she wants to give students the types of events that they want to see on campus.  
Jesslan Sharp, Vice President of the Student Senate
Sharp has been an officer and mentor in Freshman Forum. She serves on Student Senate and is a JSU Ambassador and housing resident assistant. She is also a member of Zeta Tau Alpha sorority. She said she wants to help improve this position and the activities that she will be in charge of in her new role.
The following were elected to SGA Senate:
Emilee Arledge
Malin Barber
Haiden Beshears
Kristen Burger
Morgan Burkett
Hayden Clay
Haley Colbert
Jarrod Cordel
Fatima El-Khatib
Trent Ford
Kristina Gamble
Clay Hardin
Delena Harris
Holly Hawkins
Jacob Hogue
Gezekia Ivey
Mathieu James
Marissa Law
Hunter Limbaugh
Breon Moore
Bradford Nevels
Mary-Elizabeth Oliver
David Rickless
Emmanuel Rock
Ranger Rumrill
Ashely Toney
Chelsea Toyer
Adam Walton
Cole Yearta
Along with SGA leaders, JSU students also chose a new Mr. and Miss. Jax State and Mr. and Miss Friendly. Students elected Mr. and Miss Jax State are said to best represent the spirit of JSU, while those elected Mr. and Miss. Friendly best embody the university's motto of "The Friendliest Campus in the South." The results are as follows: 
Miss. Jax State: Cole Freeman
Mr. Jax State: Tucker Halbrooks
Miss Friendly: Gena Baker
Mr. Friendly: Brian Yopp
We are excited for the 2015-2016 school year and are looking forward to the new changes to come. This year's SGA will have the task of working with a new university president. These new officers hope to continue helping us move forward in all facets of campus life here at JSU. As we start to wind down on this school year, we would like to thank the current SGA for all of their hard work and dedication. They have helped lay the groundwork for the next generation of leaders on campus. We are looking forward to a great year with new faces and ideas. Go Gamecocks!