Education and Exercise-- 5Ks to Support JSU Scholarships
Education and Exercise-- 5Ks to Support JSU Scholarships
03/20/2015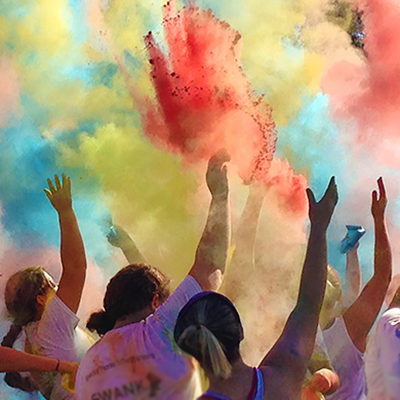 Remember that resolution you made back on New Year's Eve to get in shape in 2015? Believe it or not, one-fourth of the year has already passed. Whether you are just getting started or well on your way to meeting your fitness goals, you can raise your heart rate while supporting Jacksonville State University at two 5K events in April. 
On April 11 at 8 a.m., JSU's College of Nursing will present the Run/Walk for Your Life, which aims to be "the most educational 5K on the planet." Take in JSU's beautiful campus at your own pace, starting from Wallace Hall – home of the JSU nursing program – and winding your way past Brewer Hall, Merrill Hall and Stone Center before trekking down Mountain Street, then back up Church Avenue, and ending back at Merrill Hall.
Nursing students will be posted every half-mile of the route to present health facts and provide entertainment. The Gamecock mascot, Cocky, will be in attendance and free health screenings will be available. Following the race, there will be an awards ceremony at Lela Sarrell Learning Center in Wallace Hall. Awards will be given for 1st, 2nd and 3rd place overall male and female and 1st-3rd place in each age division.
"The faculty, staff, and students at the College of Nursing are thrilled to partner with Regional Medical Center for this fun event that will provide financial support for future nurses," said Dean Christie Shelton. 
Runners and walkers of all ages are invited to participate in this fun, educational event. The entrance fee is $20 through April 7, $25 on race day and $15 for members of the Anniston/Gadsden Runners Club. You must register by March 27 to be guaranteed a race t-shirt. All proceeds will support JSU nursing scholarships. Register online at www.jsu.edu/nursing. For more information, email Carla Willingham or call 256-782-5425 or 256-591-5694. 
On April 18 at 8 a.m., get in on the color run craze at Whirlwind of Color, a 5K presented by the Calhoun County Chamber of Commerce and Alabama Power to benefit scholarships at JSU and Gadsden State Community College. 
If you have never participated in a color run before you are in for a treat! Start the race in a plain white t-shirt and finish as a colorful canvas. Held at the Jacksonville Community Center, volunteers will be posted at color stations at each half-mile of the route to throw a different color on runners. The color is made from 100 percent natural and safe cornstarch powder paint. A vibrant celebration party will be held at the end of the race. 
"This year, we've chosen to celebrate education," said Emily Duncan, public relations coordinator for the chamber. "The future is bright, and April 18 will be extremely bright and colorful. There are many great opportunities to further one's education in our region, and we wanted to celebrate the possibilities and give back to our community." 
The Whirlwind of Color is open to runners/walkers of all ages. The entrance fee is $25. Those who register by April 1 will be guaranteed a race day t-shirt. All proceeds will be split between the JSU and GSCC Foundations to be used for scholarships. Register online at www.active.com. For more information, visit www.calhounchamber.com, email Emily Duncan or call 256-237-3536. 
Lace up your running shoes and run/walk your way to a better future for our community!