Fourth Annual JSU Jazz Festival Brings Musicians Together on March 6
Fourth Annual JSU Jazz Festival Brings Musicians Together on March 6
02/20/2015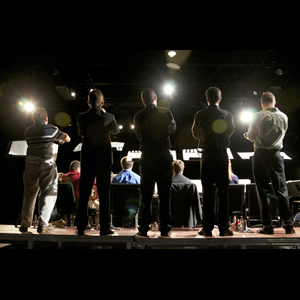 JSU Jazz musicians in performance. (JSU)
High School and college groups from around the area will gather on the JSU campus on March 6 for the Fourth Annual JSU Jazz Festival, a non-competitive educational and musical experience intended to grow the jazz community by bringing together students, directors and guest clinicians.
Music lovers will be glad to know that students aren't the only beneficiaries of this annual day of jazz. The public is invited to enjoy performances throughout the day including a free, brown bag concert at noon featuring the JSU Jazz Ensemble I and JSU Jazz faculty. The concert will also serve as JSU Jazz Ensemble I's CD release party.
The festival begins at 9 a.m., with clinics and masterclasses taking place at 11 a.m. After the noon concert, there will be more clinics and masterclasses on every instrument, with performances by the bands from 2-5 p.m.
The growing list of participants includes four JSU Jazz ensembles, six combos and the JSU Latin Ensemble, as well bands from Gadsden State Community College, Northeast Alabama Community College, Jacksonville High School, White Plains High School, Southside High School, and Escambia County High School. Clinicians will provide written and verbal feedback to directors and students. Each participating school will be awarded a commemorative plaque. 
All performances will take place in Leone Cole Auditorium and the Theron Montgomery Building Auditorium. 
For ongoing updates including the schedule, visit the event's Facebook listing.
Learn more about the David L. Walters Department of Music here.