A Cappella Choir Makes Final Fundraising Push for Trip to Carnegie Hall
A Cappella Choir Makes Final Fundraising Push for Trip to Carnegie Hall
02/24/2015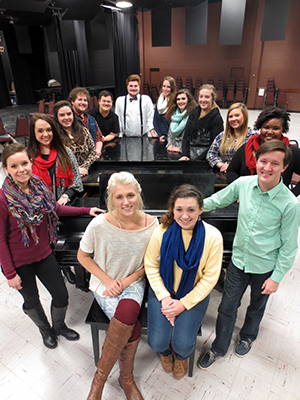 Photo- From left to right (behind the piano), LeAnna Fleming, Abbi Eblen, Megan Day, Jared Shiver, Christopher Serrano, Gavin Haynes, Nicole Johnson, Noya Levy, Elizabeth Gargus, Kristin Griffin, Brianna Garrett, Michael Greenwood, Alexis Thornton (seated Left), Jessica Hill (seated right) (photo courtesy of Cary McKinney)
JSU's A Cappella Choir will soon depart for NYC's Carnegie Hall for the performance of a lifetime. Before they hit the road, they are conducting one more fundraising activity to help fund their trip. 
On Thursday, March 19th, 14 members of JSU A Cappella Choir and JSU Director of Choral Activities, Patricia Corbin, will be traveling to New York City to join other choirs perform at Carnegie Hall. The concert is Sunday, March 22nd at 2:00 p.m. They will perform Morten Lauridsen's Lux Aeterna under the direction of Peter Hendrickson and Bob Chilcott's Canticle of Light under the direction of Douglas Mears.
The choir members will be staying at a hotel in downtown Manhattan for five days and will have an opportunity to explore New York City when they are not in rehearsals. Students have been fundraising since August for this trip, with yard sales, book sales, and most recently, singing Valentines.

Their final fundraising activity will be bake sales in Mason Hall during Music Department Scholarship auditions, Friday and Saturday, February 20-21, and 27-28. "Many of these students have never traveled out of the southeast, " says Dr. Corbin. "As stressful as it is to fundraise for an expensive trip like this, I am so excited that these students will have this experience! I am confident it will be something they will never forget."

Discounted tickets for the Carnegie Hall concert are available until March 4 through PipTix, (info@piptix.com). After March 4, full price tickets may be ordered through CarnegieCharge at (212) 247-7800, or purchased at the Carnegie Hall Box office, located at 57th Street and Seventh Avenue in New York, or purchased online at www.carnegiehall.org

For a preview of the New York concert the entire A Cappella Choir will be performing the Lauridsen's Lux Aeterna at their spring concert, Sunday, March 15, 2015 at 3:00 p.m. at First United Methodist Church in Anniston, accompanied by guest organist and former A Cappella choir member, Joshua Bullock. Mrs. Jean Corlett is the choir's regular accompanist. This concert is free and open to the public.

Donations to assist these students with their travel expenses are gratefully accepted and may be made through the JSU Foundation. Please make checks payable to "JSU Friends of Music/Choirs." Checks may be mailed to or dropped off at the David L. Walters Department of Music, or the JSU Foundation.