Four Generations of Gamecocks
Four Generations of Gamecocks
12/12/2014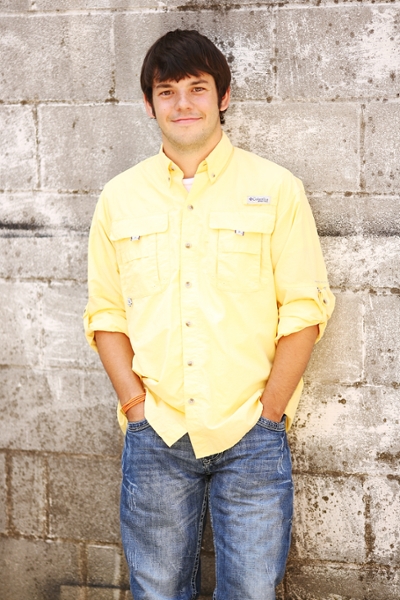 By Heather Greene
Many college students are the first or second generation in their family to attend college. When Dillon Thomas Ledbetter Brock receives his diploma at Jacksonville State University in a couple of years, he will become the fourth generation in his family to graduate from JSU, part of a tradition that spans nearly 70 years.
The Brock/Ledbetter family's connection to JSU goes back to 1946, when Dillon's great-grandfather, Willie Herman Ledbetter (1946-1949), attended Jacksonville State Teachers College after serving in the U.S. Army during World War II.
Dillon's grandparents, Omega Ledbetter (1957-1958) and Guy B. Brock (1957-1962), grew up in nearby Piedmont, so it was natural for them to attend Jacksonville State College. After serving in the U.S. Air Force, Guy Brock enrolled at JSC, where Omega was also enrolling. The two began carpooling from Piedmont to Jacksonville as freshmen. Quickly, their college commute turned into a relationship, and three weeks and four days later, they were married in 1958. In August 2014, they celebrated their 56th wedding anniversary.
The list of JSU graduates grew as Dillon's father, Duvan L. Brock, and his mother, Dawn Fowler Brock, both attended JSU and graduated in 1986.
Duvan Brock grew up in Calhoun, Georgia and attended JSU from 1982 through 1986. In August 1986, Brock graduated with his Bachelor of Science in finance with a minor in English.
After dating throughout their time at JSU, Duvan Brock and Dawn were married in June 1987.  Together, they have three children: Dillon and Alexandria, their biological children; and Evelyn, who is their adopted daughter. Alexandria graduated from the University of Georgia and Evelyn graduated from Georgia Northwestern Technical College.
Duvan Brock began working in the financial services industry, first for Edward Jones and later Ameriprise, where he worked his way up to Platinum Services Wealth Manager for North Georgia.
In 2007, Duvan Brock and three other financial service representatives started their own brokerage firm named Dempsey Lord Smith, LLC, which is headquartered in Rome, Georgia.  Currently, he serves as executive vice president and one-fourth owner of the firm, which employs 75 financial advisors.
Duvan Brock's wife and father became business partners and started their own accounting firm in 1989, which now employs eight people. 
"Owning our own businesses has been difficult and rewarding at the same time," explained Duvan Brock. "However, it has afforded us the opportunity to pursue our hobby of traveling the world. To date, we have visited 46 of the 50 United States, as well as visited many foreign countries on five of the seven continents."
Duvan Brock's education did not end at JSU, as he went on to attend other schools for master's level work and professional degrees. In 1995 he became a certified financial planner (CFP), and he also attended the College of Financial Planning in Denver to attain the chartered mutual fund counselor (CMFC) professional degree in 1997. In 2001, he graduated from The American College of Financial Services in Bryn Mawr, Pennsylvania, where he earned the chartered financial consultant (ChFC) professional degree. He earned his most recent professional degree in 2008 when he gained the chartered retirement planning counselor (CRPC) certification.
"JSU gave me the educational tools to pursue my dreams," he explained. "Upon graduation from JSU, I wanted to pursue my dream of helping people achieve financial success. Early in my career, one of the first questions potential clients would ask me is 'Where did you go to college?'  My answer: 'Jacksonville State University!'  Many times their response was 'Wow – I hear they have a great business school.'  Thankfully, I can now respond with – JSU gave me the educational background that has helped me achieve my dreams!"
As a student at JSU, Duvan Brock spent most of his time in Merrill Hall under the educational direction of Dr. William Fielding, dean of the College of Commerce and Business Administration; Dr. Bill Scroggins, head of the Finance, Economics and Accounting department; and Dr. Richard Cobb, head of the Management and Marketing department.
"These three professors taught me that with a good education and a lot of hard work, anyone can achieve success," he said. As a way of giving back to his university, he has served on the College's AACSB Accreditation Advisory Board since 2011.
While at JSU, Duvan Brock also became a member of Kappa Alpha Order in 1984, where he served as the KA Muscular Dystrophy Fund chairman.
Because the Brocks' ancestral home is located in Calhoun County, not only did many of Dillon Brock's direct ancestors attend JSU, but many of his extended family members did, as well. Two of Dillon's great aunts (Omega Brock's sisters) attended JSU. Anita Ledbetter Sparks earned her master's degree in 1972 and Fran Ledbetter Henderson attended in 1973-1974. His mom's sister, Carla Fowler Huff, also attended JSU in 1986-1987. Additionally, cousins who have attended JSU include Gerald E. McCarver and Judy McAllister McCarver (1955-59), James Ray and Eddie Taylor (1970s), and Landon Henderson Reeves (2001-2003).
As Duvan Brock explained, "When it came time to go to college, it was only natural for me to choose JSU due to my family's deep roots at JSU."
When it came time for Dillon Brock to also decide where to go to college, his parents quite often reminded him of his JSU lineage while also leaving the door open for him to make his own decision.  
Weighing the options before him, Dillon decided to take up the family mantle of JSU traditions and head back to his roots in Calhoun County. A freshman majoring in finance, he hopes to eventually join his father's business.
Dillon obviously has some large shoes to fill, but if he is anything like the rest of his family, there is no doubt that success will follow and his JSU diploma will be proudly displayed on his office wall as he swaps his JSU stories with future clients and friends.
For more information on how to begin your JSU journey, please visit www.jsu.edu. 
Photo: Dillon Brock (courtesy of the Brock family)
This article originally appeared in the "Town and Gown" of the Jacksonville News.