JSU Enters Partnership with Southern Union
JSU Enters Partnership with Southern Union
11/19/2014
JSU has entered into a formal partnership with Southern Union State Community College to establish a seamless transfer process between the two institutions. The "reverse transfer" agreement allows SUSCC students who transfer to JSU an avenue to transfer credits back to Southern Union and receive an associate's degree while working on their bachelor's degrees at JSU.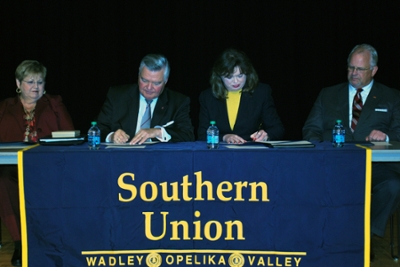 JSU President Bill Meehan traveled to Southern Union's campus in Wadley on Nov. 17 to   participate in a signing ceremony with SUSCC Interim President Glenda Colagaross.
"I'm very pleased that we could formalize this agreement today," Colagaross said during the event. "More than 50 percent of community college students transfer without earning an associate's degree. Many times, they are just a few classes shy of the degree. By applying credits earned at a four-year institution back to the community college, students can increase their earning potential and have a tangible milestone in their quest to earning a bachelor's degree."
With campuses in Wadley, Opelika and Valley, Southern Union is the second oldest two-year college in Alabama, and is accredited by the Commission on Colleges of the Southern Association of Colleges and Schools to award associate degrees. 
Photo: Dr. William Meehan, JSU President and Dr. Glenda Colagross, SU Interim President, sign the reverse transfer agreement between the two schools as Dr. Rebecca Turner, JSU and Provost and Vice President, Academic and Student Affairs and Mr. Ralph Burke of the JSU Gadsden Center look on.  (courtesy/SUSCC)