'Friendliest Campus' Prepares for the Holidays
'Friendliest Campus' Prepares for the Holidays
11/17/2014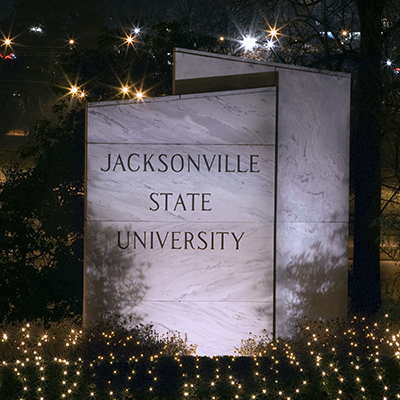 Holiday Lights at JSU. (Steve Latham/JSU)
By Heather Greene
With the holiday season upon us, we at Jacksonville State University are reminded of our numerous blessings and relish the opportunity to give back to the community and those in need. Not only does JSU have various service projects going on across campus, but we are also offering some fun-filled activities for the whole family to enjoy this holiday season.
As is tradition, President Bill and Beth Meehan cordially invite the community to the President's Home for JSU in Lights on Dec. 1, 4-5:30 p.m. The annual reception serves as a time to bring the campus and local communities together and usher in the spirit of holidays. Attendees are asked to bring an unwrapped toy for a boy or girl ages 5-10. The event is organized by the Student Government Association.
"The Student Government Association loves helping to serve the community on behalf of the students at JSU," said Brett Johnson, SGA President. "Being able to give back is what puts us in the mood for the season. Our toy drive conducted through JSU in Lights is a great way to bring cheer to children in our area. When students get involved in these service projects, they know that contributing just a little bit individually can collectively make a huge impact."
While the SGA is giving back to children in our community through JSU in Lights, the university is also making an impact around the world with projects like Shoeboxes for Guatemala. Coordinated for the past 14 years by Dr. George M. Lauderbaugh, JSU professor of history and a board member for the Alabama Guatemala Partners of the Americas, the university will be filling shoeboxes with toys, books and personal items for impoverished children in Guatemala.
While giving to children one has never met before in another country can sometimes feel remote, Lauderbaugh aptly drives home the importance of the project by explaining that there are children in Guatemala who will literally receive nothing for Christmas if people in Alabama do not come together and give of their time and resources. Anyone wishing to participate may drop off a filled shoebox at the Ernest Stone Center, room 309, by Dec. 15. For a list of items to include in a shoebox, contact Lauderbaugh at glauderb@jsu.edu or 256-782-8044.
In addition to helping less fortunate children, the university is hosting a variety of kid-friendly events this holiday season. JSU Choral Activities will host its annual Madrigal Dinner on Dec. 5 and 6. The Renaissance themed event will transfer Ye Old Leone Cole Auditorium into a medieval court with wassail, a multi-course feast, and farcical drama, singing and humor presented by the JSU Chamber Singers and A Cappella Choir. This event is great family entertainment, suitable for children and adults. Tickets are $28 for regular seating, $15 for children ages 4-12, and $50 for patron seating. Advanced purchase is required. The Choral Activities office must receive all reservations by Nov. 19 at noon. For more information, call 256-782-5544.
For the outdoor lover, the JSU Little River Canyon Center in Fort Payne will host Christmas in the Canyon – an enchanting day full of holiday programs including arts and crafts, storytelling, music, photos with Santa, refreshments and more – on Dec. 6, 10 a.m. to 3 p.m. Admission is free. On Dec. 12, the JSU Field Schools and Friends of the Talladega National Forest will host Merry Mountain Christmas, 6-9 p.m., at the Cleburne County Mountain Center in Heflin. The evening will be filled with live holiday music from Caribbean Chrome Steel Drum Band, the JSU Field Schools 2015 programs will be unveiled and there will be an update on the U.S. Forest Service Alabama Golden Eagle Project. Admission is free and all are invited to attend. For more information on these events, contact Renee Morrison at 256-782-8010
Jacksonville State University would like to wish you and your family a safe and happy holiday season!