Title Talk in the Air for Gamecock Football
Title Talk in the Air for Gamecock Football
10/30/2014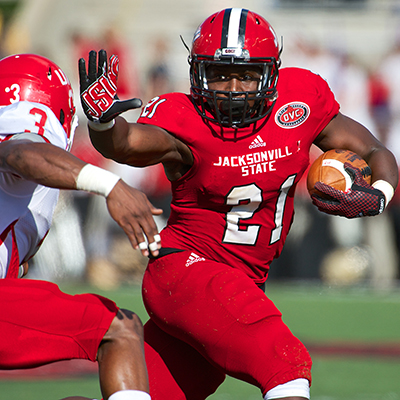 Jacksonville State Gamecocks running back Miles Jones (21) in action vs. UWA in the Gamecocks' 2014 home opener. (Steve Latham/JSU)
With the Jax State football team currently ranked first in its conference and fifth nationally, title talk is starting to buzz throughout campus. Since understanding college playoffs can be as difficult as finding a parking space on game day, JSU Athletics has provided the following playoff primer. 
The NCAA Division I Football Championship consists of a 24-team bracket. The top eight teams in the nation get a bye week during the first round on Nov. 29.
The winners from the first week will go up against the top eight on Dec. 6.
The quarterfinals will be held on Dec. 13.
The semifinals will be held on Dec. 20.
The venues for the playoff games, as well as the bracket, will be announced during a televised selection show on ESPN on Nov. 23. JSU has bid on hosting games in the series.
The national championship will be played on Jan. 10 in Frisco, Texas, at the Toyota Stadium.
Stay up to date on JSU Football's quest for the national title at www.JSUGamecockSports.com. Go Gamecocks!