The Real CSI: JSU Author Event with Joseph Scott Morgan to Explore the Truth Behind Death Investigation
The Real CSI: JSU Author Event with Joseph Scott Morgan to Explore the Truth Behind Death Investigation
09/03/2014
Joseph Scott Morgan (courtesy)
Jacksonville State University's Friends of the Houston Cole Library will present Joseph Scott Morgan, 2013 Georgia Author of the Year and JSU Distinguished Scholar of Applied Forensics, in a book talk and signing on September 19 at 7 p.m. on the 11th floor of the library.  Morgan will read excerpts and discuss his recent memoir, Blood Beneath my Feet: The Journey of a Southern Death Investigator.
Morgan, who is also 2013 Georgia Association of College Stores Author of the Year, regularly appears on HLN and CNN as a forensic analyst, where he has offered commentary on high-profile cases such as the Jodi Arias/Travis Alexander case, the George Zimmerman/Trayvon Martin case, the Oscar Pistorius case, the Justin Harris case, the death of Phillip Seymore Hoffmann and many others.
For fourteen years, Morgan worked as the senior investigator for the Fulton County Medical Examiner's Office (FCMEO) in Atlanta, managing a staff of 11 medicolegal death investigators while maintaining a personal case load of 200-300 deaths per year. Prior to his tenure at FCMEO, Morgan was a forensic investigator with the Jefferson Parish Coroner's Office in New Orleans for six years. At the time of his appointment Morgan was the youngest medicolegal death investigator in the United States. In addition to his death investigative duties, Morgan has served as an autopsy assistant, conducting more than 7,000 autopsies over his two decades in two of the South's most beautiful and violent cities.
Of his recent book and his career, Morgan states, "…I began my journey as the youngest medicolegal death investigator in the United States in 1986. Though my career began along the eclectic canals and boulevards of metropolitan New Orleans, it ended in the crime ridden and self -important streets of the 'New South,' Atlanta. But my journey with death began long before then, (when I was) named after a murdered uncle and survived my father's attempt to kill my family.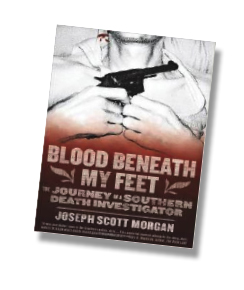 "Blood Beneath My Feet is not CSI fluff or singularly focused crime stories as much as it is about the price paid for staring death in the eyes over a lifetime. These experiences are expressed in a uniquely southern manner and this is brought to light through the quirky characters that I encountered throughout my career as well as the heart breaking consequences of loss suffered by the inhabitants of two great southern cities," he says.
Morgan's work deftly deals with the many psychological effects that come from dealing with death on a daily basis. While his work would undoubtedly appeal to those interested in crime and forensic investigations, his memoir lends itself to revealing the face behind the investigation, allowing any young fans of such hit shows as CSI or Criminal Minds to see Hollywood's veneer of forensics stripped away to reveal the harsh reality that is being a medicolegal death investigator.
Admission for this public event is free and refreshments will be served. Books will be available for purchase/signing.
For more information, please contact the Houston Cole Library at 256-782-5758.