Take a Hike-- JSU Field Schools Present Opportunities to Get Outdoors
Take a Hike-- JSU Field Schools Present Opportunities to Get Outdoors
09/04/2014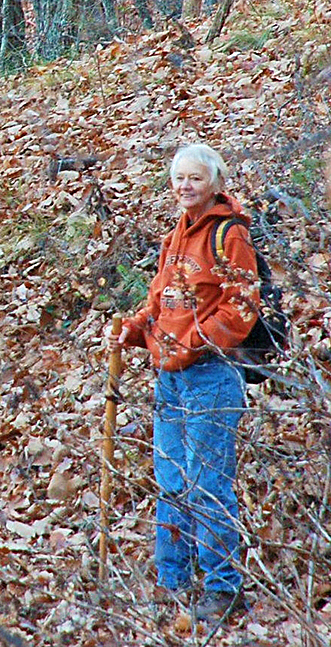 Botanist and environmental educator Francine Hutchinson will lead the September 13 Medicinal and Edible Plants Walk. (courtesy, Francine Hutchinson)
The days are getting shorter and cooler, the back-to-school rush is over, and the yard work that was such a beast in July has become a little more manageable. What is there to do, then, on a football free September Saturday in Calhoun County?
How about a walk on the wild side?
On Saturday, September 13, Jacksonville State University Field Schools along with the Anniston Outdoor Association and the Choccolocco Creek Watershed Alliance will host two hikes designed to get participants out of the house and into the great outdoors. These include an 8.3-mile hike on the Pinhoti Trail and a creek trek that will teach hikers about medicinal and edible plants of the Choccolocco Creek watershed.
The Pinhoti Trail hike will begin at the Cheaha State Park trailhead and will end at the Turnipseed trailhead on Alabama Highway 281 (the Scenic Byway). The trek will log 5.3 miles to Little Caney Head on the Pinhoti Trail and then take the Chinnabee Silent Trail to the finish. The Pinhoti portion of the hike will involve several climbs and rocky terrain, while the portion of the hike on the Chinnabee Silent Trail will feature a steep descent down rocky terrain for about a mile before leveling out for the final mile.
For hikers who aren't quite ready for such a physical trek, there's Creek Walk: Medicinal and Edible Plants, the perfect opportunity to enjoy a day outdoors and gather some knowledge about beneficial plants.
Francine Hutchinson, botanist and assistant curator of JSU's Herbarium will lead the walk centered on the fascinating habitat of the Choccolocco Creek watershed. Hutchinson has spent 20 years in the classroom as a National Board Certified Biology teacher and regularly conducts hikes and field trips for the JSU Field Schools.
Hutchinson says that of the estimated 2,000-3,000 native plants in the Choccolocco Creek watershed area, she has identified about 750 different species. A good rule of thumb is that about half of those identified species are medicinal or edible. The trick, she says, is in knowing which half is which.
Of the helpful native plants Hutchinson expects to see and share on the trail on September 13, jewelweed is among her favorites.
"It's a little annual but it's really good at propagating itself. It has a beautiful little flower and it's blooming and seeding this time of year," she says. "It's edible and it's highly medicinal, especially for things you'll encounter this time of year—chiggers, poison oak, infections. You can eat it, and you can steam it. There are a lot of different ways to work with it."
Also fruiting at this time of the year is elderberry, which received its common name due to its medicinal properties believed to increase longevity. Elderberries are commonly made into wine, juice, and even jam. Joe-pye weed, which grows along sunny roadsides, is good for gout, influenza and an assortment of ills, according to Hutchinson. It's not necessarily edible; rather, its flowers and leaves are often boiled into syrups and tea.
While she enjoys sharing her knowledge with others, Hutchinson says she always begins her plant hikes with a disclaimer.
While it's great to explore and get to know the native plants, if you're going to incorporate herbs into your diet for medicinal purposes, it's best to start at an herb store where dosages are regulated, research any herbs you plan to take, and always consult with your physician before starting any herbal regimen," she says.
"I encourage everyone to do their homework and start out with small dosages of any herbals, especially if they're going to be eating plants. You have to be very careful because there are plants that look very much alike. Some will be good medicine; some will kill you."
For this hike, Hutchinson suggests that participants bring along their cameras or mobile devices, which can be very useful in documenting the plants. There are a number of free apps that help with plant identification, as well. She also suggests that participants bring their favorite bug spray, a hat, and lots of water.
Registration Information
Creek Walk: Medicinal & Edible Plants
Best suited for ages 14 to adult. Come prepared with your camera and questions! 
Date: Saturday September 13
Meet up: Dugger Mountain Wilderness Area (Meet at Pink E. Burns Trail-head on Rabbittown Road)
Time: 10 a.m. – 2 p.m.
What to Bring: Day pack with lunch/supplies
Fee: $5 per person
Registration: Must pre-register; please call (256) 782-8010 or email Renee Morrison, rmorrison@jsu.edu
Pinhoti Trail Hike (Anniston Outdoor Association and JSU Field Schools)
Date: Saturday September 13
Meet up: Publix parking lot located at the Oxford Exchange adjacent to Exit 188 on I-20 and US Hwy 78
Time: Meet up at 8:30 a.m.; Actual hike time is 10 a.m. – 2 p.m.
What to Bring: Day pack with lunch/supplies
Fee: $5 per person; free for AOA members
Registration: Contact Keith Hudson by Thursday, September 11. Call (256) 231-7675 or (256) 239-8746, or email ataoa@annistonal.gov.
For more information about these or other JSU Field Schools programs please contact Renee Simmons Morrison, assistant director of JSU Field Schools, by phone at 256-782-5697 or email rmorrison@jsu.edu. Or, visit the JSU Field Schools website.