Read at "The Roost:" JSU Offers Digital Publications Through New iPhone, iPad Newsstand App
Read at "The Roost:" JSU Offers Digital Publications Through New iPhone, iPad Newsstand App
09/17/2014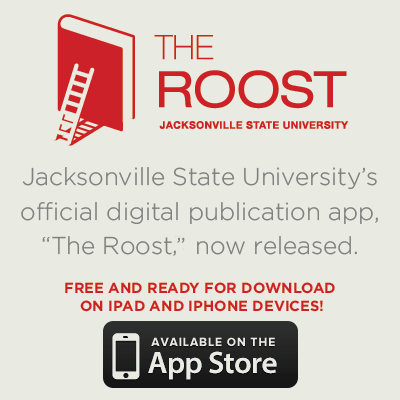 Do you prefer to get your publications delivered electronically? Good news! Jacksonville State University's official digital publication app, "The Roost," is now free and ready to download from Apple's App Store. The app is functional for both iPhone and iPad devices.
JSU digital publications such as the GEM of the Hills will be released through the app where they will be ready to read instantly. Publications are easy to navigate and fully interactive so you can enjoy enriched content like helpful links and videos.  
After downloading the app, check the updates section in your app store often for new publication releases. Current publications that have been released include the 2014 Fall Gem of the Hills issue and the Getting Started Guide with updates that will include the 2014 Homecoming Schedule.