JSU Receives $3.175 Million "First in the World" Grant from U.S. Department of Education
JSU Receives $3.175 Million "First in the World" Grant from U.S. Department of Education
09/30/2014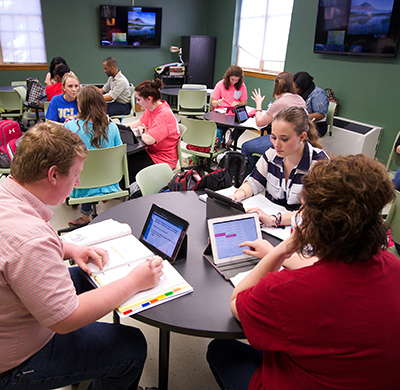 JSU Education students collaborate in a connected classroom. (Steve Latham/JSU)
Jacksonville State University is the only institution in Alabama and one of only 24 in the nation that will receive a U.S. Department of Education "First in the World" (FITW) Grant to support the university's ongoing efforts to transform the campus into a technologically advanced, learning-centered institution.
JSU was notified today that it would receive $3.175 million of the $75 million set aside by the Obama administration to support postsecondary institutions' efforts to develop and evaluate new approaches to expand college access and improve student learning while reducing costs. The Department announced the grant competition in May.
"The First in the World grant competition is a key part of President Obama's agenda to foster innovative ideas that help keep college affordable, increase quality and improve educational outcomes for our students," said U.S. Secretary of Education Arne Duncan. "The Department is proud to support the wide range of innovation at colleges and universities across the nation that can dramatically enhance student outcomes."
Nearly 500 institutions from throughout the country applied for the grant. Duncan said that each grantee demonstrated a high-quality, creative and sound approach to expand college and improve student outcomes.
"We are confident these projects will have a positive impact on increasing access and completion and help us reach President Obama's 2020 goal, to once again have the highest share of college graduates in the world," he said.
Jacksonville State University will use its grant to help fund the university's Quality Enhancement Plan, Fast Forward, the goals of which are to increase students' critical thinking skills and confidence using technology to analyze and solve problems, increase teachers' confidence in the use of technology, and to promote new teaching methodologies through professional development and faculty mentoring.  Much of Fast Forward was developed during strategic planning for the university's Collaborative Regional Education (CORE) model in 2012, according to Dr. Alicia Simmons, JSU's vice president for planning, research and collaboration. In December 2013, CORE received a $11.67 million Department of Education Investing in Innovation (i3) grant, which brings technology to high-need rural classrooms with the goal of improving college and work readiness among 8th-12th grade students. The CORE model integrates technology in classrooms and provides teachers with professional development that prepares them to use technology as a tool to support individualized learning.  Other components include partnership building, classroom support, dual enrollment scholarships and change management.
"I am so pleased that the CORE Higher Ed model has been funded," said Dr. Simmons. "Collaborative Regional Education (CORE) is a true PK-20 initiative and now all aspects of the initiative have been funded by the U.S. Department of Education… This grant will support transforming JSU classrooms and supporting increased learning among JSU students.  It's an exciting time to be at JSU and to be a CORE partner!"
Dr. Rebecca Turner, JSU's provost and vice president for academic and student affairs, added, "The First in the World Grant provides JSU with needed resources to continue our efforts to transform our learning environment, which includes using new methods of instruction and the use of technology to enhance learning. This grant will assist us in providing professional development for faculty who will use technology in the classroom to facilitate learning. With additional access to technology, student learning can take place anywhere, anytime. The First in the World Grant will enable us to accomplish technology enhanced learning at JSU."
JSU President Dr. William A. Meehan congratulated Dr. Simmons and other university staff responsible for the successful grant application.
"This is great news! Our planning and research staff and our principal investigators are doing an excellent job. Since December of 2013 they have brought in $18 million of grants in three awards. This will truly help our vision for the future," he said.
According to the Education Department, Jacksonville State University and the remaining FITW grant recipients represent 17 states, 19 public, private, and nonprofit four-year institutions and five public and private two-year institutions. Six of the 24 winning applications—including an HBCU—are from minority serving institutions (MSIs), which will receive $20 million in funding. Many of the grantees have additional organizational partners, such as other postsecondary institutions, non-profits and businesses.
All projects will address at least one of these priorities: increasing college access and completion, increasing community college transfer rates, increasing STEM enrollment and completion, and reducing time to completion.
To learn more about Jacksonville State University's Quality Enhancement Plan (QEP), Fast Forward, please visit http://www.jsu.edu/qep/. To learn more about Collaborative Regional Education (CORE), please visit https://www.corepartners.org.