Explore Your Future at the Fall Career Fair on October 1
Explore Your Future at the Fall Career Fair on October 1
09/08/2014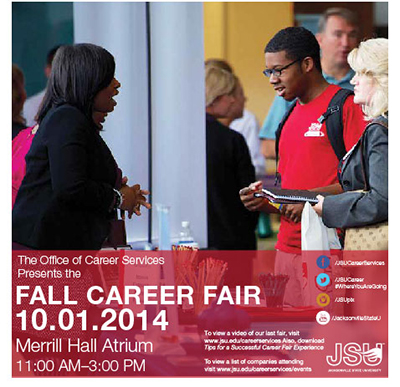 The Office of Career Services announces the annual Fall Career Fair on Wednesday, October 1 from 11 a.m. - 3 p.m. in the Merrill Hall Atrium.
Students who are scheduled to graduate in December 2014 - this is the last recruiting opportunity that provides a one-stop-shop access to organizations and companies that are interested in JSU students and alumni. Employers at the fair will be looking to hire for full-time employment, co-op and internships. Some employers may not have specific opportunities, but they have information to share and they want YOU to know about THEM. 

The career fair is open to all JSU students and alumni - from first year students through seniors, and alumni. First and second year students can explore the opportunities and get a better sense of what might fit with their interests. Juniors and seniors will want to strategically use this opportunity to present themselves to future employers and learn about what companies are looking for in their candidates.