2014 JSU Alumni of Year to be Honored at November 1 Homecoming
2014 JSU Alumni of Year to be Honored at November 1 Homecoming
09/23/2014
The Jacksonville State University Alumni Association announces the 2014 Alumni Award recipients.  These five outstanding members of the JSU family will be recognized during halftime at the JSU Homecoming game on Saturday, November 1, 2014.
ALUMNUS OF THE YEAR
Mr. Ken Howell '72
Mr. Howell earned his Bachelor of Science in accounting from Jacksonville State University in 1972. At that same time, he was commissioned into the Army Reserve as a second lieutenant. He served in the Reserves from 1972-1982 attaining the rank of captain. During that time, he began his accounting career and in 1986, landed at Auto Custom Carpets (ACC), Inc. in Anniston, Ala where he is currently the president and chief executive officer. ACC is the world's leading manufacturer of automotive replacement carpet. The company employs over 150 workers across two states and five locations. Mr. Howell is a Certified Public Accountant (CPA) and a Chartered Global Management Accountant (CGMA). He serves as a member of the Greater Anniston Business and Professional Association, the JSU Gamecock Club, The American Institute of Certified Public Accountants, the Alabama Society of Certified Public Accountants, and the Alabama Association of Accountants. He also serves on the Advisory Board for Regions Bank, is the president of the Oxford City Schools Education Foundation and the president of the Anniston Country Club. He is also a director of the JSU Foundation Board. Mr. Howell enjoys golf, traveling, ballroom dancing and coin collecting. He and his wife Jenny teach a non-credit continuing education Ball Room Dance Class for JSU and he has served as an alumni mentor and guest speaker for multiple JSU students and accounting classes. He is a lifetime member of the JSU National Alumni Association. The Howells have four grown children and they reside in Anniston, Ala.
---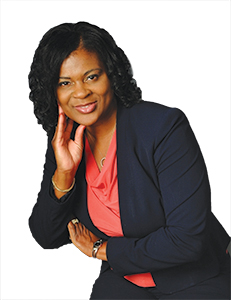 ALUMNA OF THE YEAR
Dr. Niyah E. Griffin '98
Dr. Griffin earned her Bachelor of Science in elementary education from Jacksonville State University in 1998. She continued her education at Tennessee State University earning a Master degree in 2001, certifications in English as a Second Language in 2003 and School Administration and Supervision in 2006. In 2008, she received a Doctorate in Educational Administration degree, also from Tennessee State in Nashville, Tn. In 2011, Dr. Griffin completed her superintendent certification from Abilene Christian University in Abilene, Tx., for post doctorate work. Currently, she is the associate superintendent with the Diocese of Birmingham Catholic School District. Dr. Griffin oversees the district's accreditation, curriculum development, and professional development for principals and teachers within the district. Prior to this position, Dr. Griffin was a principal, assistant principal and adjunct professor. She has presented at national educational conferences and published in educational journals. She has also served as a Peer Review Team member and/or evaluator for the Southern Association for Colleges and Schools (SACS) and the Southern Association of Independent Schools (SAIS). In 2011 she had the opportunity to be an ambassador with the People to People program representing the United States in a Supervision and Curriculum Development Delegation to China. In 2012, she was an ATHENA Award nominee. The ATHENA Award is considered Nashville's highest award of recognition for the achievements of professional women as it honors outstanding female leaders for their career success, service to the community, and encouragement of other women. Dr. Griffin is a member of the National Catholic Educational Association, the Association for Supervision and Curriculum Development, the National Association for Elementary and Middle School Principals Association, the National Association of Professional Women, the Alpha Kappa Alpha Sorority, Inc. and the National Sorority of Phi Delta Kappa among others. She is a lifetime member of the JSU National Alumni Association. She and her husband, Darryl, have two children, Lauren (13) and Jordan (9) and they reside in Vestavia Hills, Ala.
---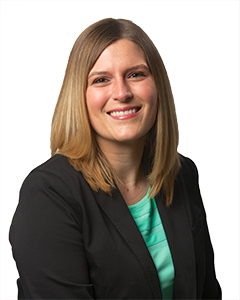 YOUNG ALUM OF THE YEAR
Mrs. Katie Carter Stotts '05
Ms. Stotts earned her Bachelor of Science in criminal justice from Jacksonville State University in 2005. Upon graduation, she began working as a probation officer for Georgia Department of Corrections in Dalton, Georgia, supervising a diverse caseload of up to 350 cases. In 2006, Ms. Stotts transferred to Marietta, Georgia and was promoted to an Intensive Probation Officer supervising a high risk caseload and monitoring curfew compliance. Shortly thereafter, she was hired with the United States Probation Office for the Northern District of Georgia as a Probation Officer Assistant and conducted pretrial and presentence investigations. In 2010, Ms. Stotts was promoted to her current position as a U.S. Probation Officer and supervises pretrial and post-conviction cases, including individuals on electronic monitoring. In addition to her core duties, Ms. Stotts is also a firearms instructor, a safety instructor, and a member of the search and enforcement team. While at JSU, Ms. Stotts was a JSU Ambassador, SGA Senator, SGA Justice, Gamecock Hostess, Mimosa Editor, Panhellenic Vice President of Judicial and Junior Panhellenic and Greek Woman of the Year (2004). She also served as financial vice president, new member orientation chair, marshal and ritual chair for Alpha Xi Delta. Ms. Stotts continues her involvement with JSU as the vice-president of the JSU Criminal Justice Alumni Chapter and serves as the Chapter Life Advisor for Alpha Xi Delta. She is also a lifetime member of the JSU National Alumni Association. She and her husband, Billy, reside in Stone Mountain, Georgia, and have two daughters, Carolina (16) and Molly Grace (12).
---
MILITARY ALUMNUS OF THE YEAR
Colonel Barry F. Graham '88
Colonel Graham began his military service in 1984 as an enlisted field artilleryman at the former Fort McClellan, Ala. He is a 1988 distinguished military graduate of Jacksonville State University where he earned Bachelor of Arts in political science and law enforcement and a regular Army commission as an infantry officer, later transferring to military intelligence. Colonel Graham also holds a Master of Science in international relations from Troy State University. Among others, he is a graduate of the Infantry Officer's Basic Course, the Military Intelligence Officer's Advanced Course, the Arabic Linguist Course, U.S. Army Command and General Staff College, the Joint Forces Staff College and was a U.S. Army War College Intergovernmental Fellow in Washington, D.C. He currently serves as the assistant chief of staff, G-2 for Third Army/USARCENT. Colonel Graham has been awarded twenty different military awards and decorations which most notably include; the Legion of Merit, three awards of the Bronze Star Medal, the Purple Heart Medal, the Defense Meritorious Service Medal, the Parachutist Badge, the Expert Infantryman Badge, the Army Staff Badge and the Combat Action Badge . Colonel Graham and his wife, Bunny, are the proud parents of Mary Beth and her husband 1st Lt. Bryson Soden of Fort Drum, NY, a son Seth who is in the tenth grade and twins Anne and Emma who are in the ninth grade. The Grahams are currently stationed at Shaw Air Force Base, SC.
---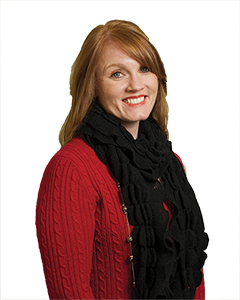 OUTSTANDING FACULTY/STAFF OF THE YEAR
Dr. Rhonda Kilgo '97/'01
Dr. Kilgo earned a Bachelor of Science in education from Jacksonville State University in 1997 with a concentration in mathematics and English. After graduation, she taught high school mathematics at Gadsden High School for one year and Arab High school for four years during which time she obtained her Master of Science in education from JSU in 2001. She returned to JSU as a member of the math faculty in the MCIS department in 2002. Her main teaching responsibilities include general studies mathematics and math classes which help prepare pre-service elementary education majors. Dr. Kilgo was awarded the degree of Doctor of Education in Higher Education Administration from the University of Alabama in 2012 and in the fall of 2013, she joined the College of Education and Professional Studies as a faculty member of the department of secondary education. She serves as the primary advisor for undergraduate and graduate secondary education mathematics majors as well as the mathematics specialist for the department. Dr. Kilgo also serves as the liaison between secondary education and faculty who teach mathematics content courses. During her career, Dr. Kilgo has received various recognitions for both her teaching and service. She was awarded the JSU Arts & Sciences Dean's Service Award, the Golden Apple Award by the JSU SGA for her teaching and support of students, and selected as the Greek Faculty Advisor of the Year in 2013. She has served on numerous university, college, and departmental committees and as faculty advisor for various organizations including Alpha Omicron Pi and Phi Eta Sigma Honor Society. Dr. Kilgo has also served as an advisor for the freshman orientation program and for the last six years, she has served as the Gamecock Orientation Advisor Coordinator for the program. She is also an annual member of the JSU National Alumni Association. She and her husband, Wesley, reside in Jacksonville with their daughter, Whitley (3) and are expecting their second child in September.
---
ALUMNI CHAPTER OF THE YEAR
Blount County
Led by Drs. Joe ('64) and Syble ('64) Brindley. There are approximately 437 alumni residing in the Blount County area.
To nominate someone for the 2015 Outstanding Alumni of the Year, complete the form at www.jsu.edu/alumni
Nomination deadline for 2015 alumni of the year is March 1, 2015.