Second Generation JSU Grad Jess Nelson Teaching in Honduras
Second Generation JSU Grad Jess Nelson Teaching in Honduras
08/27/2014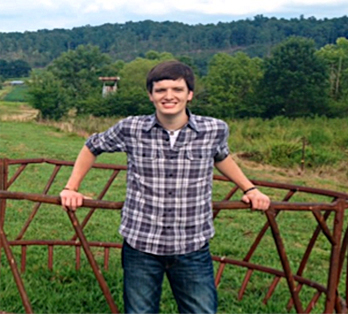 Jess Nelson (courtesy)
While pursuing his education degree at Jacksonville State University, twenty-four year old Jess Nelson ('13) never dreamed that his journey would lead him overseas to teach in a country he has loved for years.
Recently, however, Nelson's path led him to Honduras, where he teaches elementary school. Nelson explains that his connection with the country began when he was invited to go on a medical mission trip with his church, Southside Baptist.
Nelson always had a desire to travel and had participated in various mission trips to places within the United States, such as Chicago, Orlando, Tampa, St. Louis, and Washington D.C.
Initially, Nelson explains that he experienced some slight hesitation, "At first, I had no interest because I am not interested in anything medical and I had never left the country. However, it was explained to me that I could work in the children's church station, and I had been working in children's church at my home church. I had heard stories of people from my church that had been going [to Honduras] for twelve years or more and loved it."
As it turns out, Nelson also fell in love with Honduras and the people there, as he made three trips there between 2011 and 2013.
After planning his fourth trip to Honduras, a trip geared towards helping pass out shoes, school uniforms, toothpaste, toothbrushes and soap to the children in Tegucigalpa, the capital of Honduras, Nelson received an e-mail that changed the direction of his life.
The wife of one of the missionaries in Honduras asked Nelson to e-mail her sister, who was the principal of the CEAD Christian School in Honduras. The principal of the school explained that they had a job opening and it was Nelson's, if he wanted it.
"I don't think it was a coincidence at all that this job was offered to me in the same city to which I was going after the trip had been planned months ago," states Nelson.
Nelson will be stationed in Honduras for two years, but will have opportunities during the holidays to return to the United States to see friends and family.
"Everyone has been very nice to me here so far," states Nelson. "I was intimidated at first because all of our teacher meetings were in Spanish, but all of the teachers and the principal told me I could come to them anytime if I had questions or needed help…It is a great experience and I am enjoying every second of it."
Nelson teaches fifth grade English, science, and Bible. Because the school is bilingual, all of his classes are conducted in English. He is one of only two North American teachers at the school.
On the subject of things he will miss about the United States, Nelson admits that he misses having air conditioning in the United States. In Honduras, they do have fans in almost every room, but he explains that it is not the same and not as effective. He also explains that drinking and cooking with bottled water, though showering and washing dishes with tap water, can be a bit of a hassle.
As for transportation around a new country, Nelson explains that he has a driver who is assigned to take him to school, church, and to the supermarket, in addition to having friends who can occasionally pick him up.
Nelson enjoys going to the movies in Honduras or simply walking around the mall with friends. He has a strong interest in technology and his hobbies include working with computers, phones, tablets and social media.
"I am just simply going to enjoy my time here," states Nelson. "In the past, I have always been trying to plan the next year, two years, or five years. Now, I just want to be the best teacher I can be for these kids and not worry about other jobs or educational opportunities in the future."
After completing his two-year term in Honduras, Nelson would like to pursue a master's degree in education.
Nelson feels JSU prepared him for what he is doing now.  "I liked how JSU encourages collaboration between teachers and parents. I have learned that you cannot survive in the teaching field if you try to do everything on your own and think that your way is the only way," he says.
Nelson is a second generation JSU Gamecock. Both of his parents, Michael Nelson and Lisa Long Nelson, graduated from JSU, as well as his younger brother, Jared. 
At Jacksonville State University, a degree in education can be a ticket to places you never dreamed of around the globe. For information on how you can begin your teaching journey, please visit www.jsu.edu or contact the JSU College of Education and Professional Studies at (256)-782-8200.