JSU Sorority Sisters Give Firefighters Pandas, Donation
JSU Sorority Sisters Give Firefighters Pandas, Donation
08/14/2014
The 2014-2015 academic year at Jacksonville State University is starting on a positive note for at least one group of young women.
The JSU students, members of Delta Epsilon Chapter of Alpha Omicron Pi (AOII) sorority, are already working, not in the classroom but in the community to honor a pledge they made to the Jacksonville Fire Department.
Under the leadership of Caitlin M. Campbell and Brooke M. Bishop, and in concert with Fire Chief Wade Buckner, the AOII sisters brought stuffed panda toy animals of all sizes and shapes and a cash donation to the fire department's C Shift at a special presentation on the grounds of the local Wesley Foundation House on North Pelham Road next to the JSU campus Aug. 11.
It is hoped, the sorority sisters said, the pandas can be used to calm children who are facing traumatic events and emergencies, such as a house fire or motor vehicle accident. The AOII sorority also made a cash donation to the firefighters.
Assistant Fire Chief Randy Childs accepted the pandas and cash donation on behalf of the department. He said, "Thank you. We do appreciate these pandas and the donation. The pandas will definitely help when we have to treat children. The pandas will be put to good use."
In a prepared statement, Buckner said, "I am impressed these young ladies thought, not about themselves or just the first responders at the Jacksonville Fire Department, but about the young victims our men and women will encounter and rescue during future dramatic and emergency situations. As a department, we are very grateful for the sense of community the young ladies of AOII sorority bring to the JSU campus and our community."
Speaking on behalf of the sorority, Campbell, AOII vice president for membership and recruitment, said, "We know how important first responders are to any community and we sincerely appreciate what the firefighters do and are prepared to do on JSU and in the surrounding area."
Bishop, AOII vice president of administration, said, "We're glad we could help in some small way to ease the pain, stress, and fear a girl or boy may feel when they are attended to by the firefighters in a future emergency."
A junior from Huntsville, Ala., Bishop also said, "Being an AOII sister runs in my family. My Grandma was an AOII. For me, AOII lets me showcase my leadership skills and it also is an outlet to give back to the community."
Campbell is a senior from Collinsville, Ala. She said, "AOII has given a lot to me, more than T-shirts and friends. It has made me the woman I am today."
A tag on each panda reads "AOII has hope for a brighter tomorrow."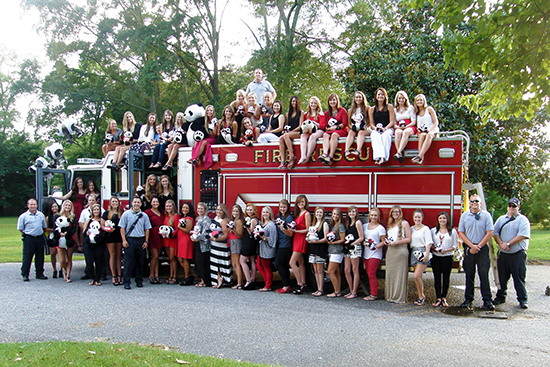 More than 50 members of Delta Epsilon Chapter of Alpha Omicron Pi (AOII) sorority at Jacksonville State University met with the Jacksonville Fire Department C Shift August 11. The young ladies donated toy pandas and cash to the firefighters as part of their community service pledge to Jacksonville. (courtesy)